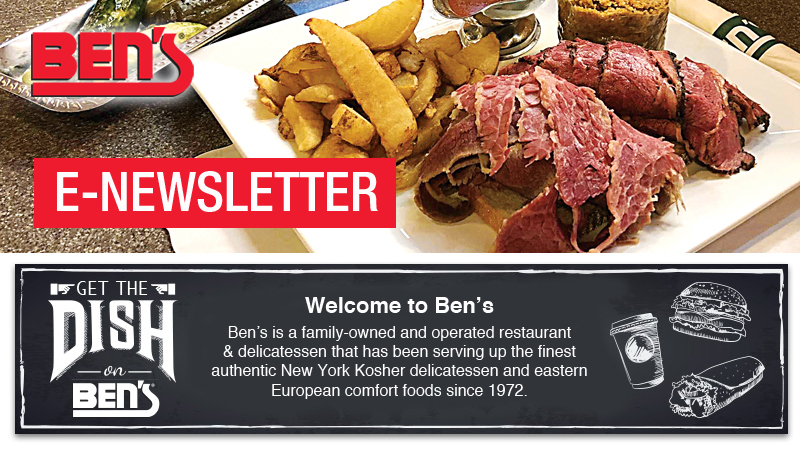 | | |
| --- | --- |
| | Ruminations & Ronnifications |
It's amazing how species develop, evolve and are able to change their behaviors. We have all learned to adapt through this pandemic; but we will be forever changed, in one way or another, for better or worse.
As June approaches this will be the end of my second month in isolation. ... > Read More
| | |
| --- | --- |
| | Special Events and Offers |

Honoring all the dads out there this month with these Father's Day specials! Keep it simple with a burger and a beer and order up the Big Ben Burger special for $19.99 which includes, a Ben's burger, choice of side and a cold beer or beverage.
Looking to feed the whole family? Order the Catering Package for 6 for $99.99 includes cold cut platter or sandwich platter, potato salad, coleslaw, pickles, mini franks and mini potato knishes. Can't keep dad off the grill? Order a DIY BBQ package with all the essentials for a backyard BBQ ready to cook! Franks, burgers, buns, BBQ chicken, coleslaw, potato salad, sodas and watermelon are all included not to mention the condiments and paper goods all for $219.90 and serves 10. Click here for full details and order early!
Great news for Manhattanites! Our midtown Ben's location will reopen for takeout and delivery on June 1st! Call us at (212) 398-2367 to place your order or order online at BensDeli.net!
Did you catch us on News 12? Our very own Todd Silverstein was featured on News 12's Tasty Tuesday with Elisa Distefano showcasing our DIY BBQ package! If you missed it, click here to watch.
Summer has begun and family backyard BBQs will definitely be the trend this summer. Ben's offers four options for catered BBQ menus ranging in price from $24.99pp to $59.99pp. Or customize your own! Click here for more details and order ahead.
With all this time at home what better activity than cooking! Here's a simple recipe for our famous Ben's Cole Slaw to make at home. Happy Cooking!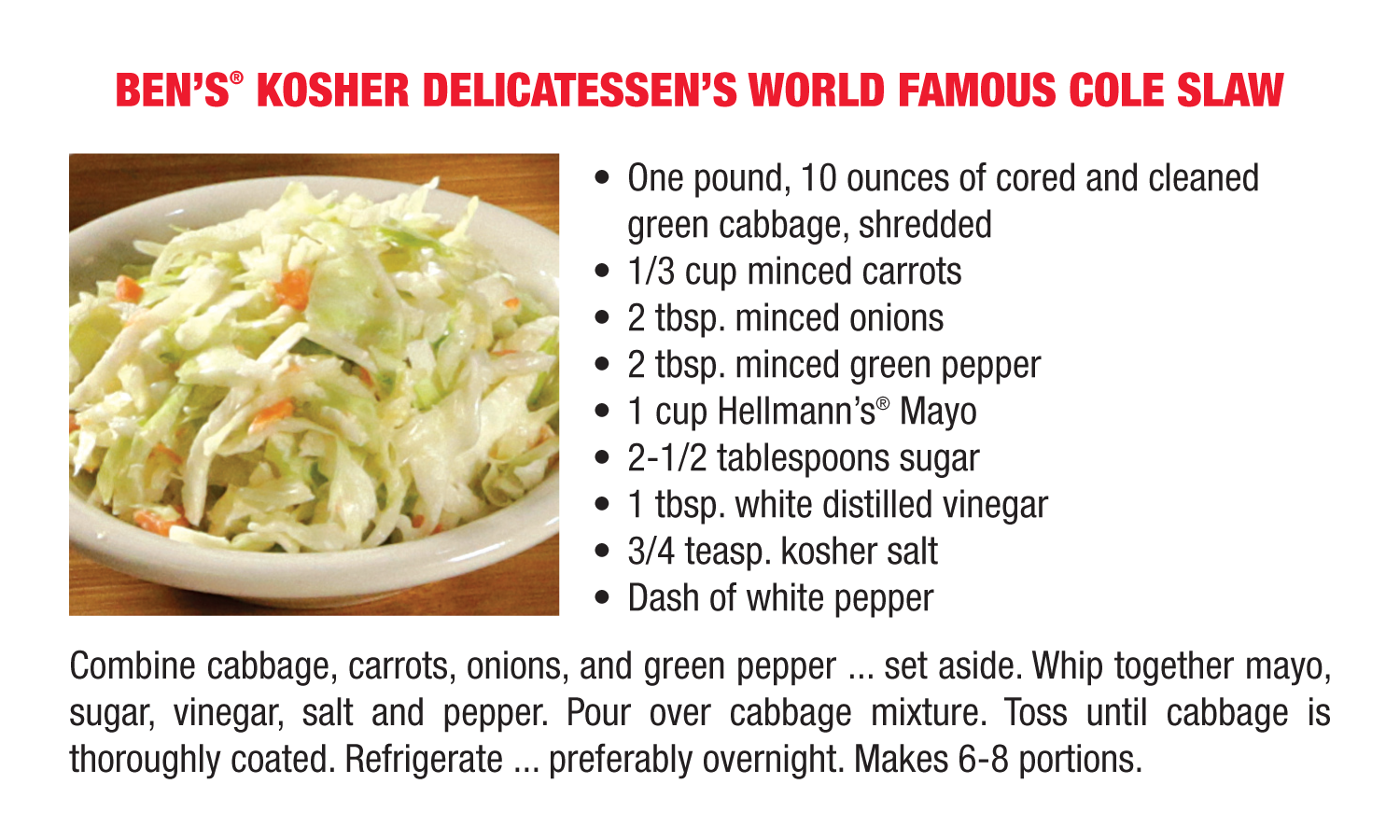 | | |
| --- | --- |
| | Customers' Corner |
"Amazing quick service, during this uncertain time of the Coronavirus. Delicious pastrami on rye! And tasty rugulah."
~ Andrea, Alabama
"Listen...if you're sporting a hankering for REAL pastrami, there are few places to go that can beat Ben's! And by REAL, I'm talking the "not so lean" variety! These sandwiches are overstuffed, no frills, warm. To say they're "tasty" is an understatement! This is pastrami the way it's meant to be!"
~ Chris, West Islip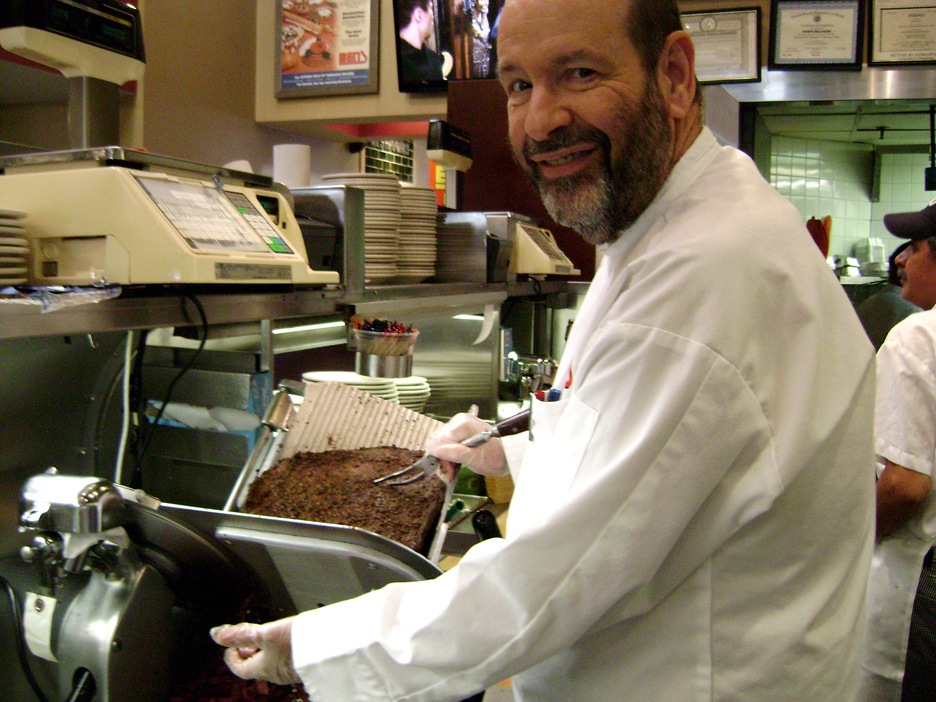 | | |
| --- | --- |
| | Ben's Friends Preferred Patrons Club News |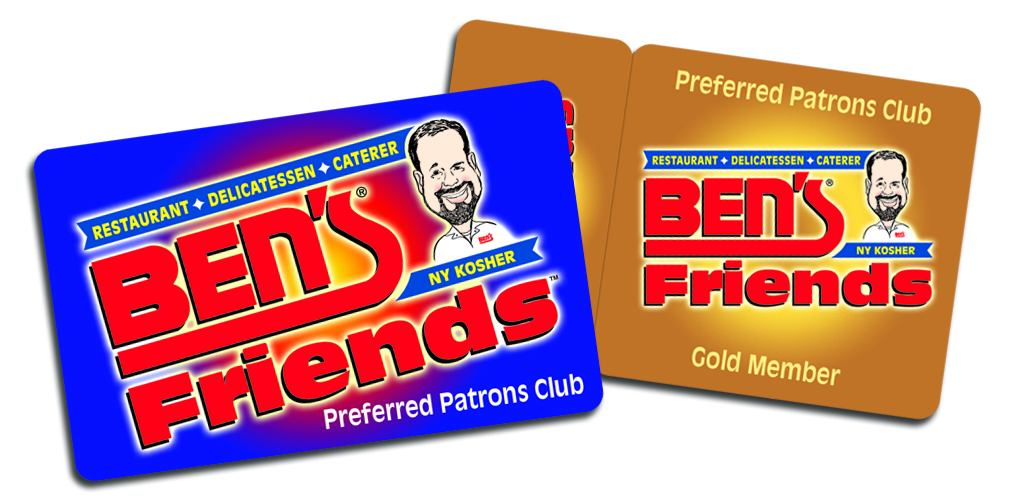 Have you joined Ben's Friends yet? If you love Ben's, you'll love the rewards you'll get when you join Ben's Preferred Patrons Club. Earn points for every dollar you spend at Ben's and watch as your points automatically generate Ben's Bonus Bucks to spend on delicious Ben's food! Click here for more details.
| | |
| --- | --- |
| | What's Cooking at Ben's? |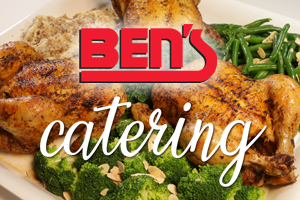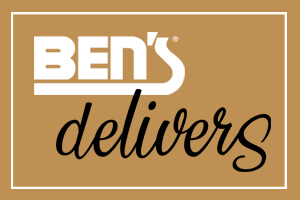 Order your favorite Ben's foods online for pick-up OR delivery to select areas from all Ben's locations!
Go to OrderBensNow.com ... choose your store location and follow the instructions.
In a hurry? Try our curbside service! Place your order by phone or online at the Ben's nearest you, then call us when you arrive and we'll bring your order to your car.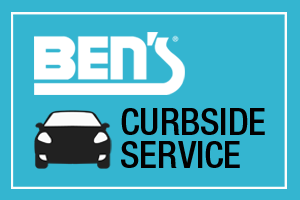 | | |
| --- | --- |
| | Giving Something Back |
We have been so honored during the COVID-19 crisis to feed the frontline workers in healthcare. Here are some happy faces (yes, they are smiling under those masks) that YOU helped feed this month! If you would like to donate Ben's Meal Boxes to our frontline heroes click here for more information.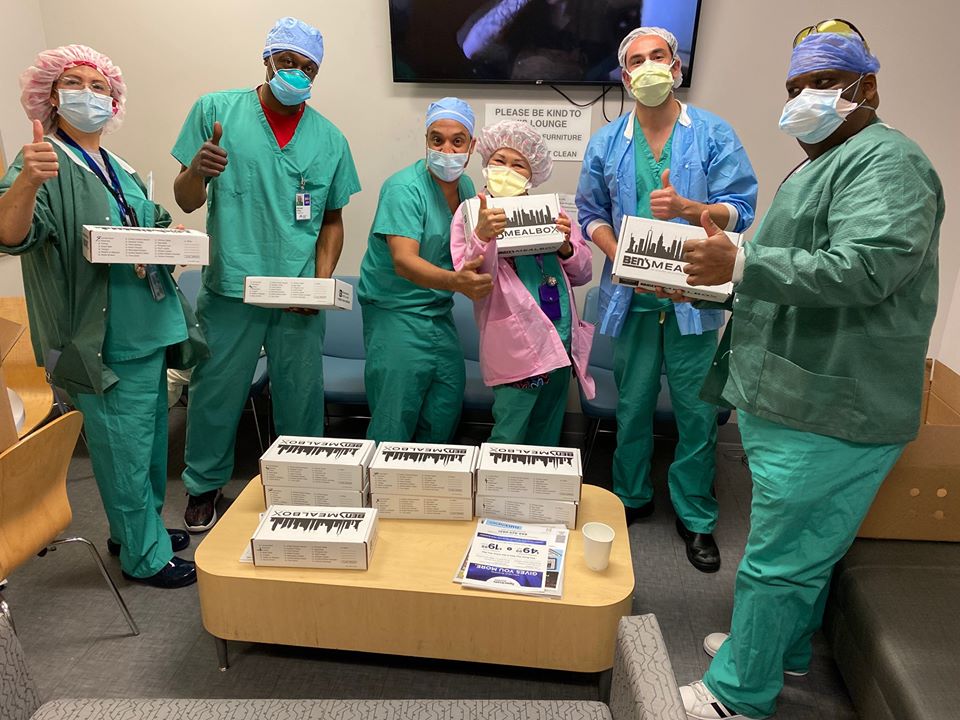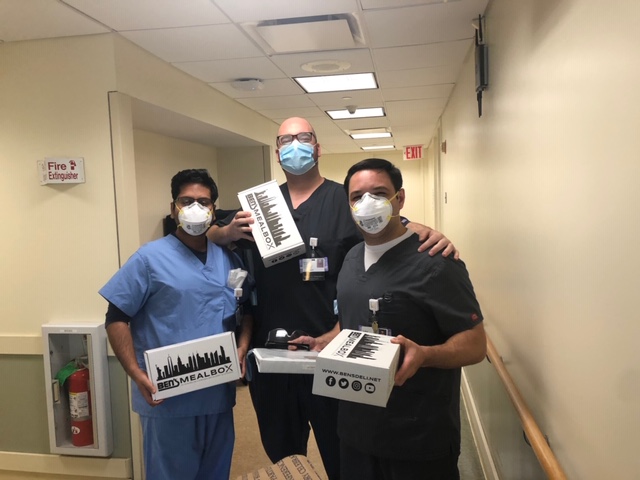 © Copyright 2020. Ronald M. Dragoon, Ben's Restaurant Group, Inc. NY Kosher Deli.
Manhattan, Queens, Long Island, Westchester and Florida Delicatessen Restaurant & Caterers.