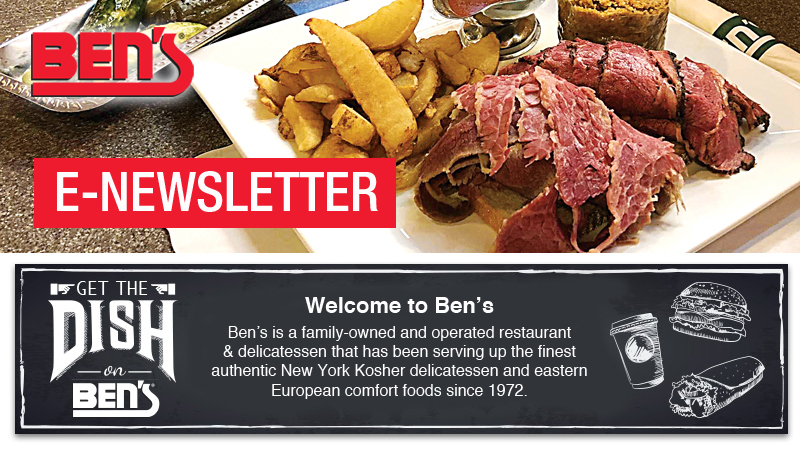 | | |
| --- | --- |
| | Ruminations & Ronnifications |
After forty-nine years in the delicatessen-restaurant business, dealing with vendors, employees and the public, it is an understatement to say that I have been both educated and enlightened. I rarely share my innermost thoughts with the public, or really anyone except my wife, yet – as I get on in years – I find that I am less inclined to be so constrained. … > Read More
| | |
| --- | --- |
| | Special Events and Offers |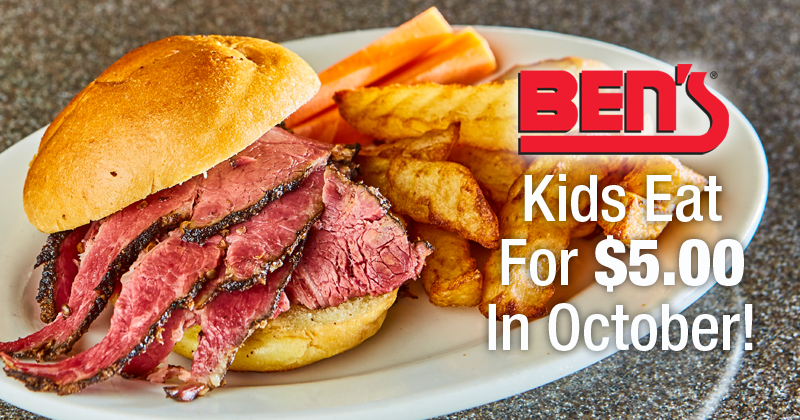 It's all about the kids this month! Round up the little ones and head on down to your nearest Ben's this month and all kids eat for $5! Purchase any sandwich or entrée at regular price in Ben's dining room and select an item for $5 from the Ben's Kids Menu. Choose from chicken tenders, glazed BBQ meatballs, hot roast beef with gravy and more, whatever junior desires. The offer applies to kids 10 and under only and is available for dine in only.
• • • • • • • • •
Did you know it's National Dessert month? Time to honor your favorite sweets and indulge in some of Ben's signature desserts. Have you had our chocolate babka or our rugulach? Two of our specialties you must try! More of a fruity dessert type of person? We've got options – apple strudel, apple bread pudding, fruit pie and fruit salad. If cake is your game we've got that too – check out our seven layer cake, seven layers of deliciousness! Whichever sweet treat you try it's sure to satisfy.
• • • • • • • • •
Wednesday = Ben's Day! That's right break up your week with a delicious meal from Ben's for just $19.99. Starting at 4 p.m. every Wednesday in all of Ben's dining rooms enjoy the following specials: corned beef with cabbage and potato; chicken fricassee with mini meatballs in brown gravy served with vegetable of the day and choice of potato; and chicken in the pot with kreplach, matzo ball, noodles, peas & carrots.
• • • • • • • • •
Between sports, clubs and all the extra activities the kids are doing these days its often a challenge to get a hot delicious meal on the table during the week. Consider Ben's Real Meals as a great way to deliver a weeknight dinner with no work at all! The family-style takeout dinners for 2, 4 or 6 offer hot, fresh and complete meals. Available any weekday, except holidays, the complete meal includes pickles and fresh bread, choice of homemade salad, main dish and two delicious sides. Call ahead and it will be ready when you arrive to pick up.

| | |
| --- | --- |
| | Customers' Corner |
"Ben's Kosher Delicatessen Restaurant is always a staple a nice hot pastrami sandwich. I can't get enough of the pickles and coleslaw, you can tell how fresh everything is. The service was great and food served to the perfect temperature."
~ Chris A., Long Island City
"I had roasted half spring chicken which I highly recommend. It was perfectly cooked. We also shared some kreplach soup. It's a chicken dumpling in the soup. Another soup we had was mushroom barley. Both were to die for, but I'll live. They make the best prime steak with lots of sautéed onion."
~ Nora, Sunnyside

| | |
| --- | --- |
| | Ben's Friends Preferred Patrons Club News |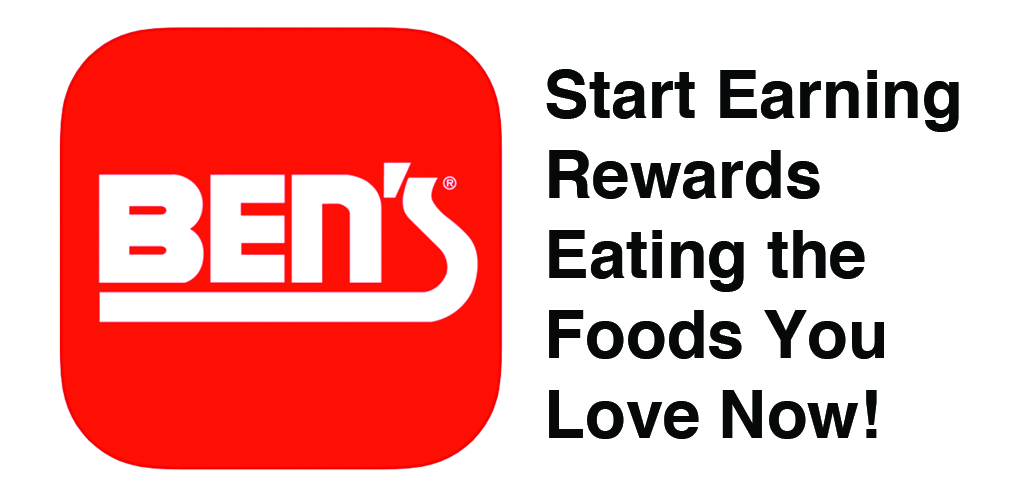 Get the App! If you haven't downloaded the NEW and improved Ben's app you are missing out! Find a Ben's location, view menus, order online, check your account balance, redeem rewards and much more. Download it and log in today to keep earning points and stay tuned for the next Ben's Friends deal. Available for iPhone and Android.
| | |
| --- | --- |
| | What's Cooking at Ben's? |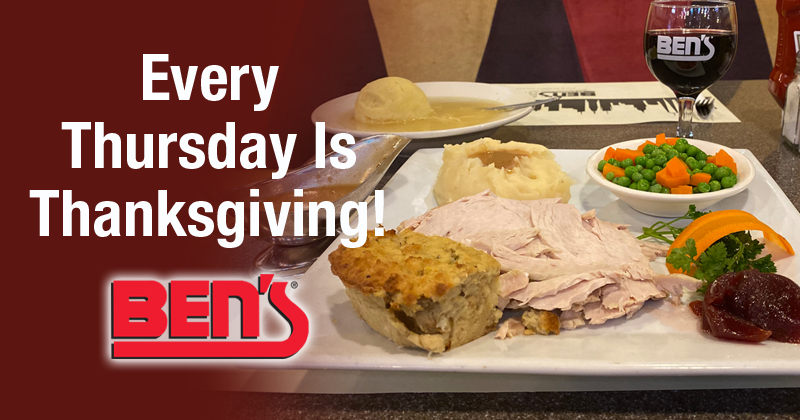 Start getting the taste buds ready for Thanksgiving by enjoying our Thursday Thanksgiving special each week at Ben's! For $21.99 order up a traditional Thanksgiving plate including fresh roast turkey with gravy and cranberry sauce, stuffing, mashed potatoes, peas and carrots. And we even throw in a cup of soup! The Thanksgiving special is available in the dining room only starting at 4 p.m. each Thursday.
• • • • • • • • •
Are you a fan of Ben's Bayside? Share your support in the Best of Boro competition. Voting is now open through November 11th. Ben's is nominated in several categories including: caterer, hot dog, pastarami sandwich, soup and delicatessen/kosher deli. Click here to vote! Thanks for your support!
• • • • • • • • •
Football is in full swing, baseball playoffs are near and ice hockey season is right around the corner! Whatever your favorite sport is you always need a delicious spread to enjoy while you watch. Ben's sports package is the perfect way to feed your fans on game day. Wings, Ben's famous sandwiches, Ben's fresh-cut cole slaw, potato salad, pickles and more. Add on fries or franks & beans to round out the spread!
Call your local Ben's and place your order today!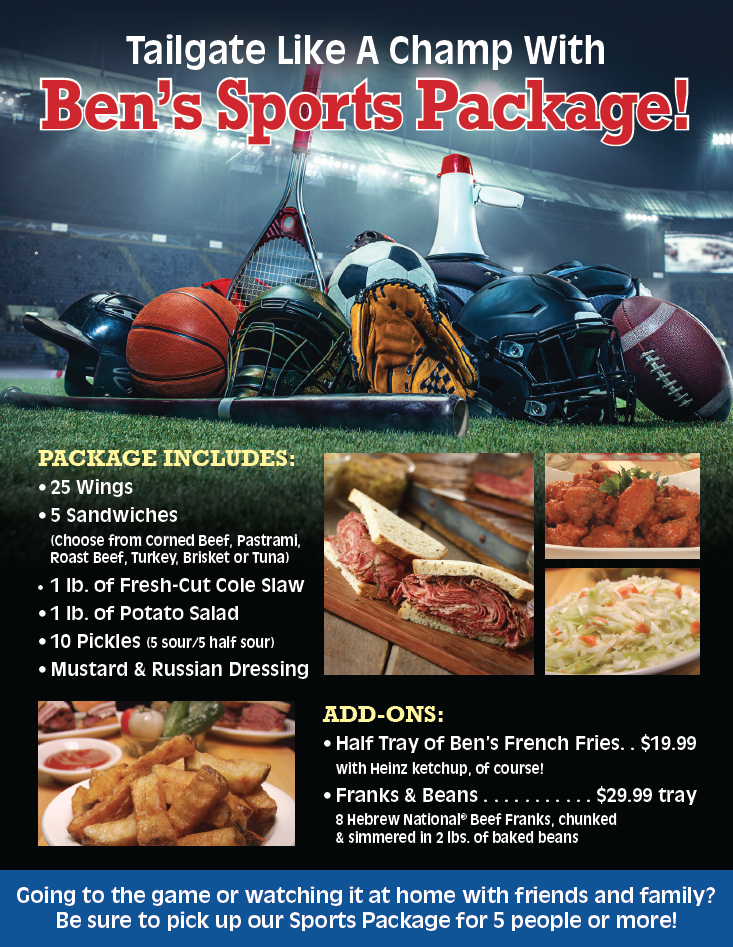 © Copyright 2021. Ronald M. Dragoon, Ben's Restaurant Group, Inc. NY Kosher Deli.
Manhattan, Queens, Long Island and Florida Delicatessen Restaurant & Caterers.