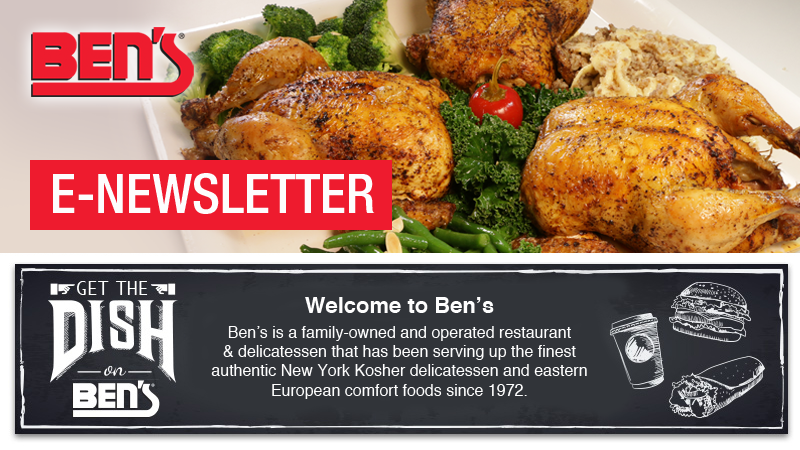 | | |
| --- | --- |
| | Ruminations & Ronnifications |
I had an epiphany recently. After viewing workers on cell phones, talking and texting, I thought our generation was better than that but then, again, most generations think that the generation that followed was less than they were. The greatest generation was clearly those who preceded the Baby Boomers of which I am one. … > Read More
| | |
| --- | --- |
| | Special Events and Offers |
There's still time to get your Rosh Hashanah order in! Order your holiday feast by Saturday, September 4th for pick up on Monday, September 6th. Choose from our package for six ($239.94) or ten ($379.90). Packages feature traditional holiday dishes such as gefilte fish, chopped liver, stuffed cabbage, sliced brisket, roast turkey, carrot tzimmes, challah, sweet potato pudding, kasha varnishkes and more! Add on dessert such as rugalach, fruit salad or honey cake to complete your meal. Click here for more info.
2021 HOLIDAY SCHEDULE
ROSH HASHANAH
Close 4pm Monday, September 6th
Reopen Thursday, September 9th
YOM KIPPUR
Close 4pm Wednesday, September 15th
Reopen Friday, September 17th
• • • • • • • • •

Are you ready for some football? NFL season kicks off Thursday, September 9th so gather some football fans and plan your Sunday football viewing party! Order up our sports package to feed the fans – 25 wings, 5 sandwiches, 1 lb. fresh-cut Cole slaw, 1 lb. potato salad, 10 pickles, mustard & Russian dressing all for $79.99. Add on a half tray of Ben's French fries for $19.99 or a tray of franks & beans for $29.99. Just add the beverages and you have the perfect Sunday! Select the Ben's nearest you and place your order online here.
• • • • • • • • •
Join us for Sunday dinner and a delicious cut of Prime Rib. Every Sunday all Ben's locations offer a prime rib dinner with two side dishes, soup and a bottomless fountain soda for $39.99. Available during dinner service only.
• • • • • • • • •
Get a Taste of New York with our Luncheon Specials! Available Mondays through Fridays 11 a.m. to 5 p.m. at your nearest Ben's location, enjoy these delicious lunch dishes starting at $12.99 – hot open sandwiches, salami & eggs, steak burgers, knockwurst platter, marinated chicken and more! All lunch specials come with your choice of season fruit salad or homemade soup, pickles and Cole slaw.

| | |
| --- | --- |
| | Customers' Corner |
"Lots of good eats there, but lately my order has been matzo ball soup and their brisket on rye. I like their corned beef and pastrami, but their brisket is the star of that show."
~ Nick, Brooklyn, NY
"Look At That Mound of Meat ! I have to say anytime I ordered the brisket it is so juicy and flavorful. With this order I had the brisket served on toasted garlic bread. The pickles and coleslaw they serve is always fresh and yummy. The potato pancakes are also on the money. The service at this location was above and beyond."
~ Chris, Long Island City, NY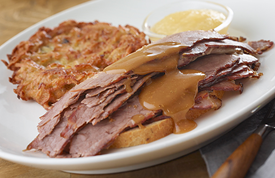 | | |
| --- | --- |
| | Ben's Friends Preferred Patrons Club News |
Got the new Ben's Friends app yet? As a member of Ben's Friends you can order ahead on the app, skip the lines and earn points all at the same time! And once those points pile up you can redeem them on the app too! Have we given you enough reasons to join yet? We think so! Click here to download the app now!
| | |
| --- | --- |
| | What's Cooking at Ben's? |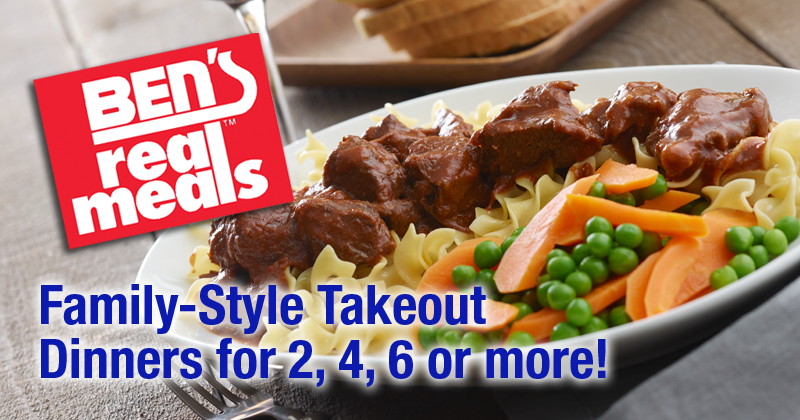 September means Back to School! Take a break from cooking for the family one night and order our Family-Style Takeout Dinner. Dinners for 2, 4 or 6 are prepared hot, fresh and ready to eat! Each meal includes pickles and fresh bread, choice of homemade salad, freshly-prepared main dish and 2 side dishes. Call in your order at your nearest Ben's and you'll have a meal for the whole family to enjoy with no mess in the kitchen.
• • • • • • • • •
Did you know it's National Chicken month? Pick your favorite chicken dish this month and celebrate! Roast half chicken, breaded chicken cutlets, grilled twin boneless chicken breasts, marinated chicken, Hawaiian chicken, chicken in the pot, chicken fricassee, the options are endless! And don't forget Ronnie's famous old-fashioned chicken soup, perfect to warm up this fall season.
• • • • • • • • •
Save the Date! Voting for Best of Long Island starts October 1st! Ben's should be nominated in several categories so make a note to sign on and start voting!
Speaking of voting, Ben's in Boca has been nominated for best sandwich spot in Boca Raton Observer's Reader Choice awards. Help us take the trophy and submit your vote here.
• • • • • • • • •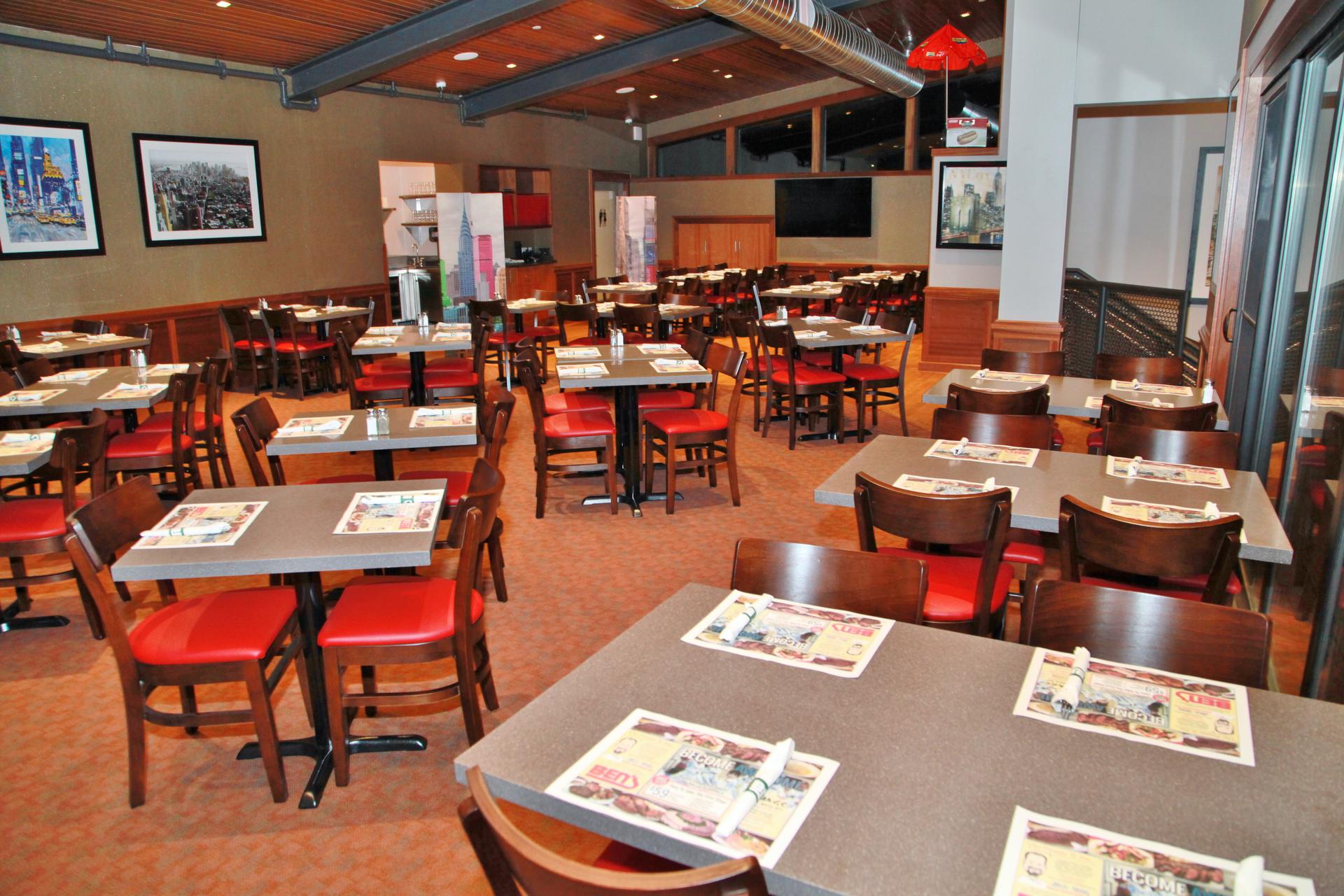 To our loyal customers of our Scarsdale location, it is with much contemplation and with a heavy heart that we announce the closing of our Scarsdale location. We have enjoyed being a presence in the Westchester community, but had to make the difficult decision to cease our operation there in order to preserve the integrity and future of Ben's. All Rosh Hashanah and Yom Kippur food will be prepared in Bayside and distributed for easy pick up at our Scarsdale location. (All food must be ordered in advance, so please call our Bayside store at (718) 229-2367 for more information). We are saddened to be forced to make this change but we believe this is necessary for our long term strategy and goals to continuing to serve you as we approach our 50th Anniversary celebration in January 2022.
© Copyright 2021. Ronald M. Dragoon, Ben's Restaurant Group, Inc. NY Kosher Deli.
Manhattan, Queens, Long Island and Florida Delicatessen Restaurant & Caterers.