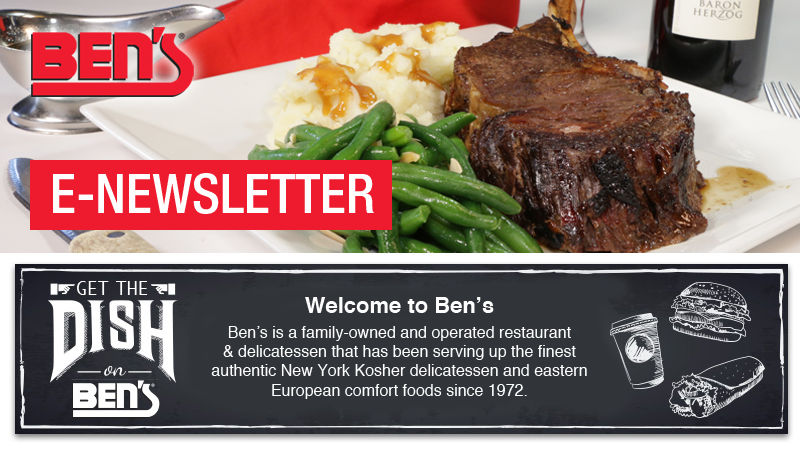 | | |
| --- | --- |
| | Ruminations & Ronnifications |
I am proud and excited to announce that my best daughter (my only daughter) Jaime has officially joined the Ben's team. I always knew she had some restaurant blood coursing through her veins and have been waiting anxiously for her to decide when the time was right. I cannot think of a better time, than now, as we approach our 50th anniversary, and with my precious grandchildren in school full day, for her to take a position and help continue my legacy. My ultimate desire is to keep Ben's and the tradition alive, well into the distant future. … > Read More
| | |
| --- | --- |
| | Special Events and Offers |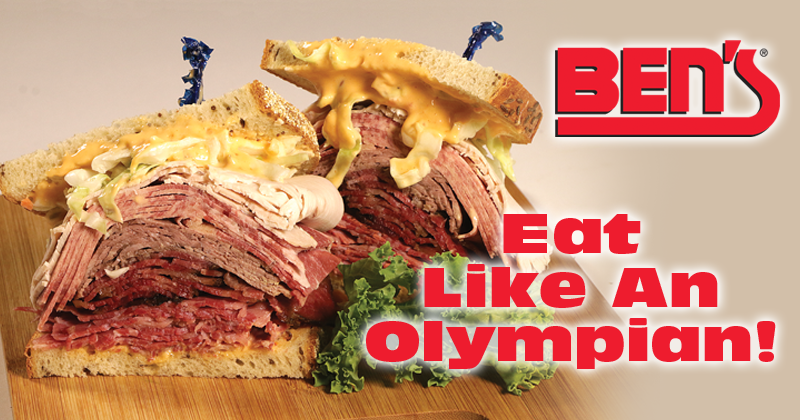 The 2020 Summer Olympics are in full swing so why not "Eat Like an Olympian!" Ben's Kosher Deli is offering an olympic size deal throughout the 2020 Summer Olympics. Ronnie's Tastemaster Sandwich, which features all of Ben's meats piled high on rye with Russian dressing and coleslaw, will be offered with onion rings and a soda for $29.99 through closing ceremony day, August 8th. This special is available for dine in only. So grab your Olympic hopefuls and hurry down to your nearest Ben's!
• • • • • • • • •
Get a Taste of New York with our new luncheon specials! Available Mondays through Fridays at your nearest Ben's location, enjoy these delicious lunch dishes starting at $12.99 –– hot open sandwiches, salami & eggs, steak burgers, knockwurst platter, marinated chicken and more! All lunch specials come with your choice of season fruit salad or homemade soup, pickles and Cole slaw.
• • • • • • • • •
Did you know August is National Sandwich Month? It's certainly is and Ben's is the king of delicious sandwiches! From corned beef, pastrami, brisket and roast beef to turkey, salami and chicken breast the options are endless. Feeling adventurous? Try the Hungarian Hoagie with goulash, caramelized onions and sweet red peppers or go for the Israeli hero, a foot-long hero overstuffed with everything but the kitchen sink. Because "life is good when you have a sandwich."
| | |
| --- | --- |
| | Customers' Corner |
Honoring one of our longest customers, Dorothy who celebrated her 101st birthday with us this month! Dorothy visited Ben's in Bayside with her family to ring in her monumental birthday! Cheers to Dorothy!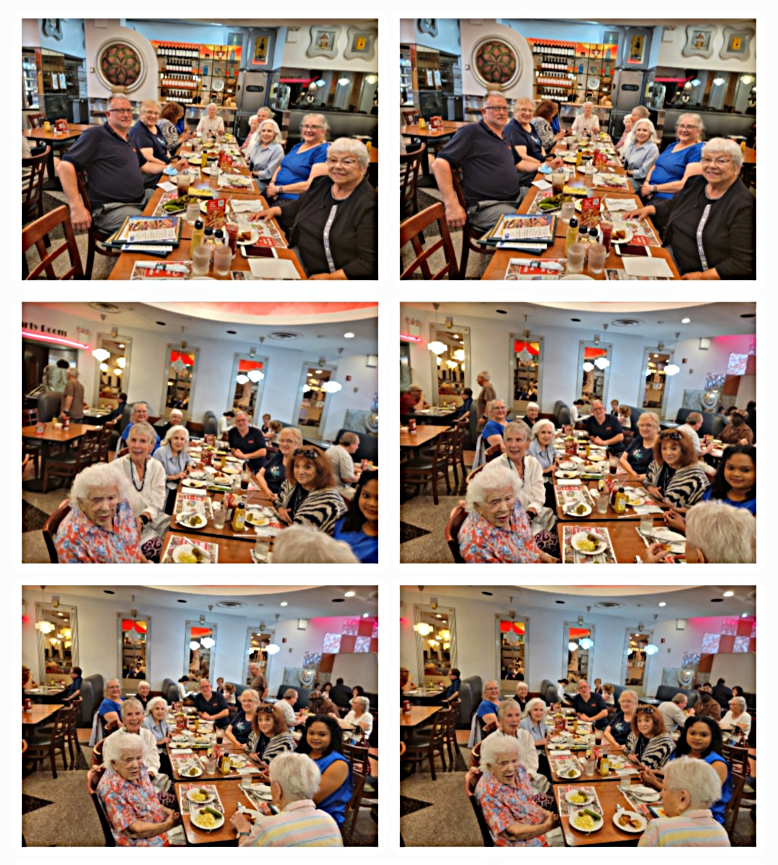 | | |
| --- | --- |
| | Ben's Friends Preferred Patrons Club News |
Got the new Ben's Friends app yet? As a member of Ben's Friends you can order ahead on the app, skip the lines and earn points all at the same time! And once those points pile up you can redeem them on the app too! Have we given you enough reasons to join yet? We think so! Click here to download it now!
| | |
| --- | --- |
| | What's Cooking at Ben's? |
Rosh Hashanah is right around the corner! Plan your holiday feast and order ahead and earn special rewards. Choose from our package for six ($239.94) or ten ($379.90). Packages feature traditional holiday dishes such as gefilte fish, chopped liver, stuffed cabbage, sliced brisket, roast turkey, carrot tzimmes, challah, sweet potato pudding, kasha varnishkes and more! Add on dessert such as rugalach, fruit salad or honey cake to complete your meal. Ben's Preferred Patron Club Members: Place your order by September 1st to earn rewards for future use. Call the Ben's location nearest you to place your order!
• • • • • • • • •
Looking to skip a night in the kitchen? Grab the kids next Tuesday and head to the nearest Ben's because kids eat free! Purchase any sandwich or entrée at regular price and select an item for free from Ben's kid's menu. Enjoy chicken tenders, junior sandwich, l'il burger, whatever junior desires! Special bonus – all kids meals come with sprinkle cookies or gelatin for dessert!
• • • • • • • • •
Join us for Sunday supper and a delicious cut of prime rib. Every Sunday all Ben's locations offer a prime rib dinner with two side dishes, soup and a bottomless fountain soda for $39.99. Available during dinner service only.
• • • • • • • • •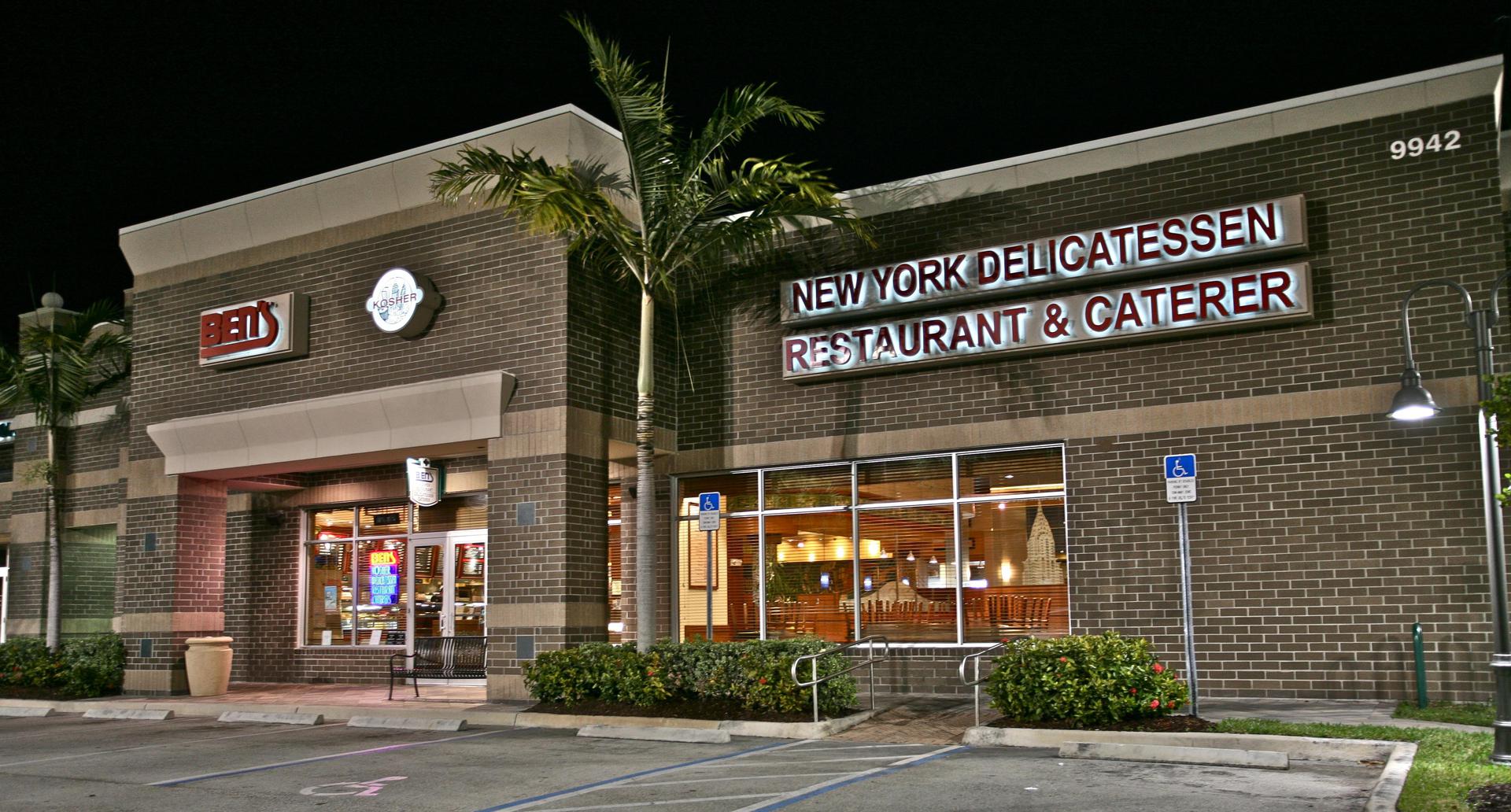 People LOVE Ben's in Boca! A big shout out to the South Floridians who nominated Ben's as their favorite restaurant in Boca. Now we need your help to advance to the next round. Please nominate Ben's Boca for the Readers' Choice Awards before midnight on August 15th. Click here to nominate us and check back on August 17th to vote for the winners! Thank you for your loyalty.
• • • • • • • • •
Ben's is hiring! Become part of our amazing Ben's family today! Click here for details on positions available.
© Copyright 2021. Ronald M. Dragoon, Ben's Restaurant Group, Inc. NY Kosher Deli.
Manhattan, Queens, Long Island, Westchester and Florida Delicatessen Restaurant & Caterers.