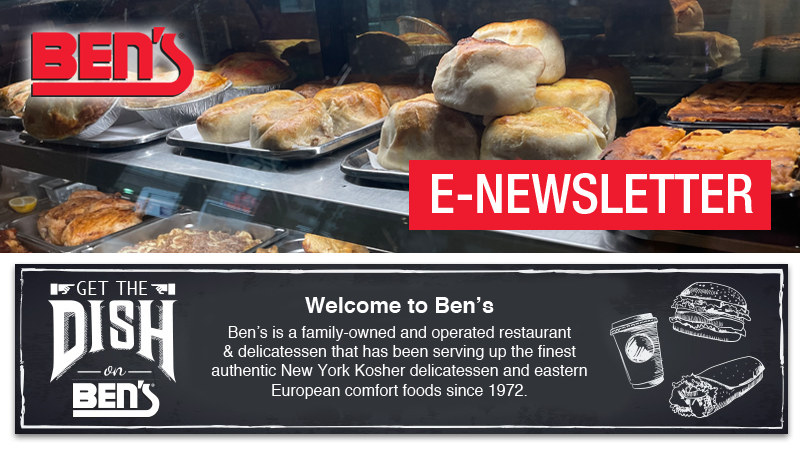 | | |
| --- | --- |
| | Ruminations & Ronnifications |
So there I sat at a manager's meeting in 2005, listening to one General Manager after another talk about online ordering. I kept thinking about what online ordering meant and if it would be a viable ordering system for our customers, especially our older patrons. I imagined they would say... what line? online where? where is the line? So, I resisted … > Read More
| | |
| --- | --- |
| | Special Events and Offers |
Graduations are in full swing and what better way to celebrate your graduate than with a gathering of family and friends! Ben's takes the worry out of planning and has several options for a great family celebration at home. Choose from: Party Platters Plus for 10 for $169.99, Housewarming Buffet for 20 for $439.80, Deluxe Hot & Cold S'more-gasbord for 20 for $539.80 or Bountiful Banquet for 30 for $809.70. Ben's can also setup, serve and cleanup if you desire for an added fee. For full details on each package visit BensDeli.net.
• • • • • • • • •

It's time to celebrate Dads in June! Plan ahead for a fun Father's Day on Sunday, June 20th with one of our special catering packages. Our Catering Package for Six includes a cold cut platter or six plattered sandwiches, potato salad, coleslaw, pickles, rye, mini franks, and mini potato knishes. Prefer to fire up the grill for the big guy? Order up our DIY BBQ which serves ten and includes Hebrew National® beef franks and rolls, beef burgers and buns, BBQ chickens and rolls, coleslaw, potato salad, sodas, watermelon, condiments, and paper goods. Want to take dad out? Stop into your closest Ben's location for a Big Ben Burger served with fries, potato knish, deli side salad and bottomless beverage or cold beer for $19.99. All specials can be ordered for pick-up or delivery directly from BensDeli.net.
• • • • • • • • •
Summer has officially started that means it's BBQ season! And Ben's has all your BBQ needs for a delicious worry-free backyard BBQ. With several packages to choose from and the option of a fully cooked BBQ or a DIY BBQ. Choose from the All American ($26.99 pp), Deluxe ($31.99 pp), Executive ($39.99 pp) or Ultimate ($61.99 pp). Full details at BensDeli.net. Or fire up the grill yourself and order up our Do-It-Yourself package for 10 for $219.90. Includes Hebrew national franks and buns, burger and rolls, BBQ chicken and dinner rolls, Cole slaw, potato salad, canned sodas, watermelon, fixings and condiments as well as paper goods. 'Cause nothing is better than chilling and grilling in the summertime!
• • • • • • • • •

NBA playoffs are the hot ticket, so round up a few basketball fans to catch the games and order Ben's Sports Package to feed the fans! Feeds 5 or more ($79.99) and includes: 25 wings, 5 sandwiches, 1 lb. Cole slaw, 1 lb. potato salad, 10 pickles and mustard and Russian dressing. Add on a half tray of Ben's French fries for $19.99 or a tray of franks and beans for $29.99. Just add the beers and you've got a great night of basketball!
| | |
| --- | --- |
| | Customers' Corner |
"This has to be one of my favorite places to eat. Not only is the staff always very friendly and extremely nice. The prices are very reasonable. The pickles and coleslaw are the best. The hot dogs and the pastrami sandwiches are my favorite. This is my Saturday off day place to go."
~ Tanya, Queens
"Listen... if you're sporting a hankering for REAL pastrami, there are few places to go that can beat Ben's! And by REAL, I'm talking the "not so lean" variety! These sandwiches are overstuffed, no frills, warm. To say they're "tasty" is an understatement! Thus, is pastrami the way it's meant to be! Whether on fresh rye or a club roll, it does not matter. Delicious and comforting is what you're gonna get!"
~ Chris, West Islip

| | |
| --- | --- |
| | Ben's Friends Preferred Patrons Club News |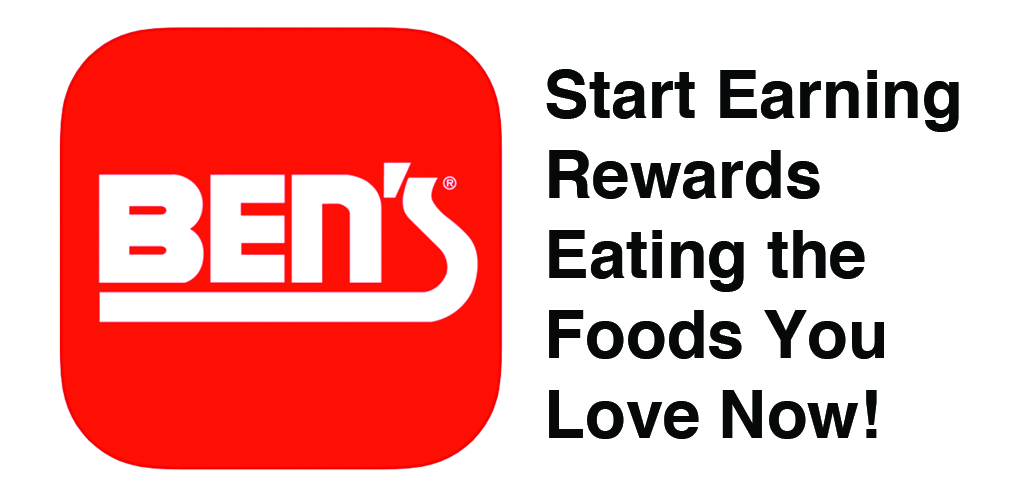 It is super easy to order online or with our Ben's Friends Rewards app. With just a few clicks you can have your meal delivered or ready for pickup at your nearest Ben's. Even better when you order on our Ben's Friends Rewards app you are earning rewards every time! Cash in your rewards for special offers at Ben's. Skip the line, order online at BensDeli.net!
| | |
| --- | --- |
| | What's Cooking at Ben's? |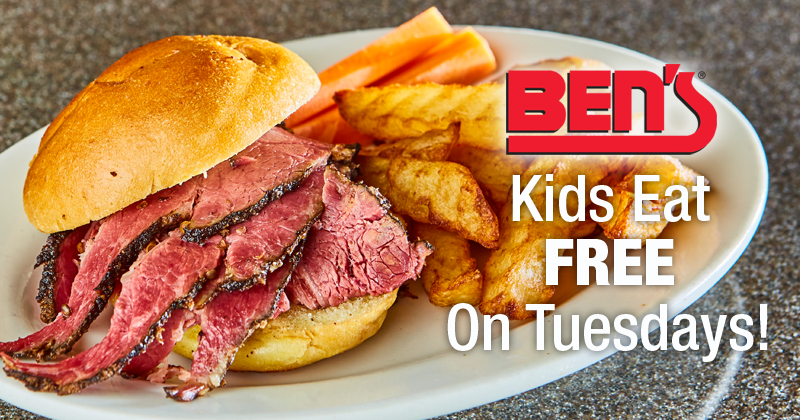 Round up the kids, pack them in the car and head to your nearest Ben's on Tuesday because every Tuesday kids eat FREE! Purchase any sandwich or entrée at regular price and select an item for free from Ben's kids' menu. Choose from kid friendly meals such as chicken tenders, l'il burger, junior deli sandwich and BBQ meatballs. And as a special bonus all kid's menu items come with sprinkle cookies or gelatin for dessert! Available for dine in only. Check out the Kid's Menu here.
• • • • • • • • •
Take a break from the kitchen and order up Ben's Real Meals for the family! The family-style takeout dinners for 2, 4 or 6 offer hot, fresh and complete meals. Available any weekday, except holidays, the complete meal includes pickles and fresh bread, choice of homemade salad, main dish and two delicious sides. Call ahead and it will be ready when you arrive to pick up!
• • • • • • • • •
Sunday is prime rib day at Ben's! Enjoy a delicious perfectly cooked cut of our best prime rib along with two side dishes, soup and a bottomless fountain soda, all for $39.99. Bring it up a notch by pairing your meal with a bottle of Baron Herzog Cabernet or Merlot for just $20. Available at all Ben's locations during dinner service only.
| | |
| --- | --- |
| | Giving Something Back |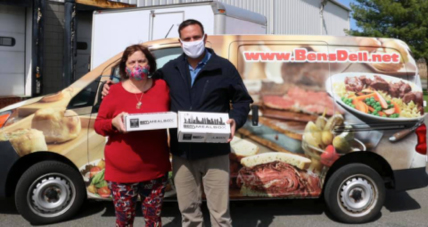 Ben's was honored to deliver lunches to the COVID-19 vaccination clinic at Hatfield Lane which were donated by the generous members of Temple Sinai and Eitz Chaim.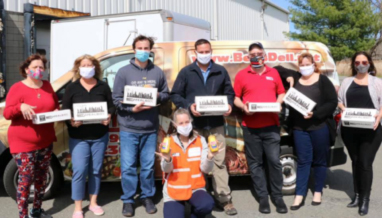 © Copyright 2021. Ronald M. Dragoon, Ben's Restaurant Group, Inc. NY Kosher Deli.
Manhattan, Queens, Long Island, Westchester and Florida Delicatessen Restaurant & Caterers.