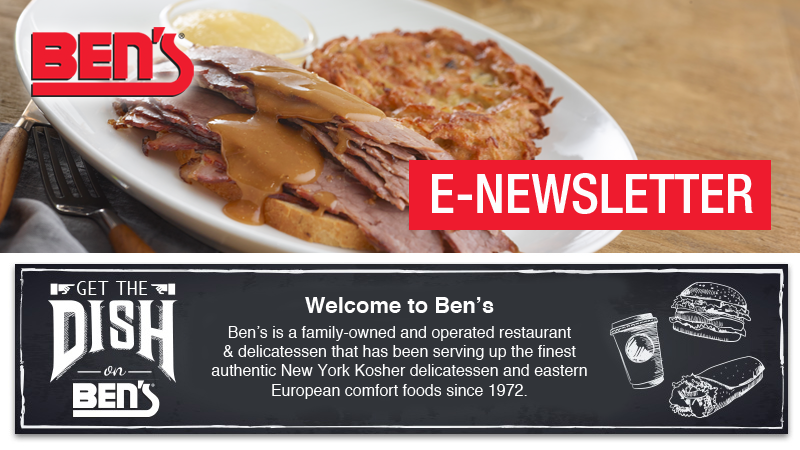 | | |
| --- | --- |
| | Ruminations & Ronnifications |
Time Marches on. As I was contemplating what to write about this month, my daughter inspired me to write about 10 things people might not know about me. She shared it on her Instagram. I thought I'd share it with you. … > Read More
| | |
| --- | --- |
| | Special Events and Offers |

You know what St. Patrick's Day means... Corned Beef & Cabbage! Starting March 1st through March 17th, we have some delicious corned beef specials available. There's the sandwich combo with a corned beef sandwich and a side for $19.99; soup & sandwich combo with soup, half corned beef sandwich and a side for $19.99; corned beef, cabbage & potato platter for $22.99; and soup, corned beef, cabbage & potato platter for $27.99. And all corned beef specials come with a bottomless fountain soda and all the fresh cut cole slaw and pickles you can eat! All combos are available in Ben's dining rooms only.
Want to enjoy your corned beef at home? Fret not we have corned beef specials to go too! Purchase Ben's corned beef, cabbage and potato platter to go and receive a pint of homemade chicken noodle soup for free! Or purchase a corned beef sandwich to go and receive cole slaw or potato salad for free! Or purchase a 1/2 pound or more of Ben's corned beef to go and enjoy a free frankfurter while you wait!
Looking for corned beef for the whole family? Our catered corned beef & cabbage special for 10 includes corned beef, cabbage, potatoes, carrots, coleslaw, small relish tray and rye bread for $199.90.
• • • • • • • • •

Ben's has all your holiday needs, but you must place your orders early! Our holiday catering packages are available for 10 or 6. Packages include: gefilte fish, chopped liver, chicken soup with matzo balls; entrée choice of roast chickens, roast turkey or sliced brisket; accompaniments of cranberry-pineapple compote, Cole slaw, carrot tzimmes, homemade gravy and large relish tray; and choice of two sides: broccoli almondine, matzo farfel & mushrooms, parsley red potatoes, sweet potato pudding or potato pudding. Cost for ten is $379.90 and for six $239.90. Ceremonial plates are also available for $16.99. Ben's Reward members receive three buy-1-get-1-free meal rewards with any package for 10 or one buy-1-get-1-free meal reward with any package for 6.
REMINDER: All Ben's locations will be closed for the 8 days of Passover – all dining rooms close at 3 p.m. on March 27th while the takeout/pickup counters will close at 4 p.m. All Ben's locations will reopen Monday, April 5th. Call your nearest Ben's to place your catering order.
| | |
| --- | --- |
| | Customers' Corner |
"I love coming here with my kids. Service and food are both great. I'll continue coming back to support one of the only Kosher deli's left on LI."
~ Aaron, NY
"A place to go when you want to the best deli in the town. The menu is packed with a vast selection of kosher food which will bring you back to your childhood. And for those who are not seniors it will be a place to remember."
~ 6830self, NY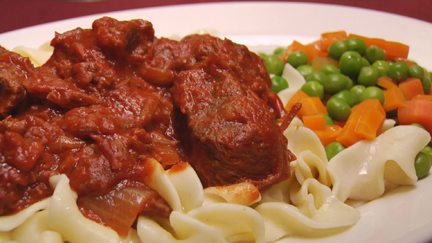 | | |
| --- | --- |
| | Ben's Friends Preferred Patrons Club News |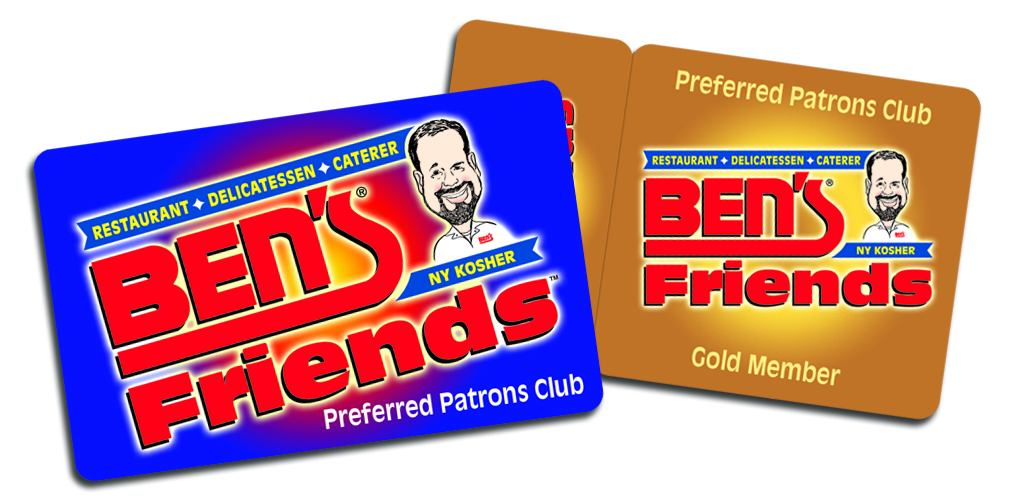 It's official – our NEW order and delivery service is live! Now you can order all your favorite Ben's items and our popular catering packages online. AND Ben's Rewards members will earn points, can redeem rewards and Ben's Bucks all on the online portal. We now accept all major credit cards including Ben's gift cards. Click here to access the online ordering portal, choose your Ben's location and order away!
| | |
| --- | --- |
| | What's Cooking at Ben's? |
Ben's Bayside is now open for dine in! Our capacity is limited to 25% but we are open to welcome you. Stay tuned for news on our Manhattan location, coming back soon!
• • • • • • • • •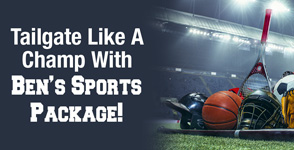 Football may be over but baseball and basketball are just heating up! Watch the games with a tasty spread from Ben's. Our sports package for 5 or more ($79.99) includes: 25 wings, 5 sandwiches, 1 lb. cole slaw, 1 lb. potato salad, 10 pickles and mustard and Russian dressing. Add on a half tray of Ben's French fries for $19.99 or a tray of franks and beans for $29.99. Just add the drinks are you've got a great night of sports!
• • • • • • • • •
Looking for a mid-week cooking break? Wednesday is Ben's Day! For $19.99 enjoy one of our special dinner platters featuring signature dishes such as corned beef, chicken fricassee and chicken in the pot. This special is only available in the dining room on Wednesdays from 4 p.m. until closing. AND as a special bonus, present your Wednesday dining room guest check for a $5 discount on your next takeout purchase of $25 or more!
| | |
| --- | --- |
| | Giving Something Back |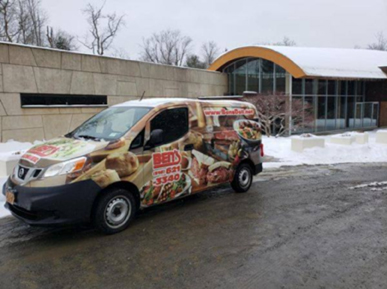 Our Temple initiatives have been very popular this winter. One of our recent runs took us all the way to Armonk, NY! If your Temple is interested in setting up a Ben's meal day, please contact us. Remember, 10% of the sales goes right back to your Temple AND you get a delicious Ben's meal! Drop us an email at [email protected] to set up your Ben's Temple day and remember no Temple is too far!
© Copyright 2021. Ronald M. Dragoon, Ben's Restaurant Group, Inc. NY Kosher Deli.
Manhattan, Queens, Long Island, Westchester and Florida Delicatessen Restaurant & Caterers.