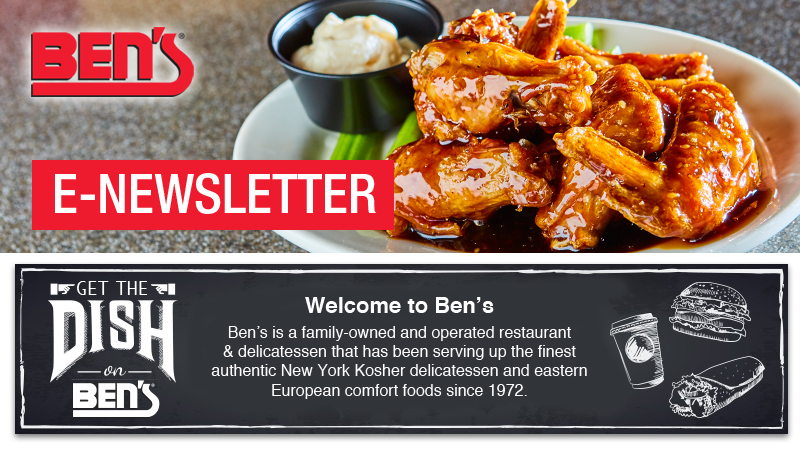 | | |
| --- | --- |
| | Ruminations & Ronnifications |
As we embark on a new year we have seen rioting at the Capitol, celebrated Martin Luther King Day and inaugurated a new president…
During this month of February, let's remember George Washington and Abraham Lincoln. Regardless of what your political beliefs are, we can all agree that hate, bigotry, and anti-Semitism do not represent our true American values. Let us each help to keep peace and create unity among us… > Read More
| | |
| --- | --- |
| | Special Events and Offers |
The Big Game is almost here so it's time to plan your game day feast! Ben's has some great sports packages to enjoy at home while watching the Chiefs and the Buccaneers battle it out. Choose your favorite from Big Game menu: giant hero ($14.99 pp), the cold cut classic ($14.99 pp), over-stuffed sandwiches ($14.99 pp), grilled chicken breast hero ($15.99 pp), assorted wraps platter ($14.99 pp), all come with two salad selections, pickle bowl & condiments. Add hot or BBQ wings for $8.99 lb. And enjoy FREE munchies (4 dozen) with any Big Game order for 12 or more, choose from frankfurters in jackets, mini potato, spinach or kasha knishes. Place your order early to make sure you are all ready for Super Bowl Sunday on February 7th!
• • • • • • • • •
The most romantic day of the year is coming up and what better way to enjoy than a delicious dinner for two! Our romantic specials for two in honor of Valentine's Day will be available on both Saturday, February 13th and Sunday, February 14th. Enjoy Rib Eye Steak for Two with sautéed mixed vegetables and your choice of mashed potatoes or freshly cut French fries for $49.99 or Grilled Filet of Salmon served with sautéed mixed vegetables and your choice of mashed potatoes or freshly cut French fries for $49.99. The specials will be available for dine in or takeout.
• • • • • • • • •

We are celebrating kids in February! With purchase of any sandwich or entrée at regular price in any of Ben's dining rooms, select a kid's menu item for just $5. Available throughout the month, choose from delicious items such as franks-n-jackets, chicken tenders, glazed BBQ meatballs and more! Applies to kids 10 and under for dine in only, no takeout.
| | |
| --- | --- |
| | Customers' Corner |
"Yeah, I know I could have had a classic pastrami or corned beef sandwich, but I opted for a Turkey on Rye almost soon after Thanksgiving. But take that baby up a couple of levels by piling on cold slaw and cranberry sauce and you have a tasty masterpiece hitting your tongue. Square crusty potato knish on the side and you need no more than a Dr. Browns black cherry soda to put the cap on that combo. The current pandemic has encouraged and forced a new desire in finding new places to vary our takeout meals. Put this place into the mix. You have to be getting tired of LoMeIn, veal parm and burgers. And by the way the chicken noodle soup just might be another resource to help keep you healthy."
~ Gary, Rockville Centre
"Started with a bowl of Matzo, then to the Dual Combo sandwich one pastrami and one corned beef. Finished off the night with a piece of 7-layer cake! All were fantastic!"
~ Tom, Huntington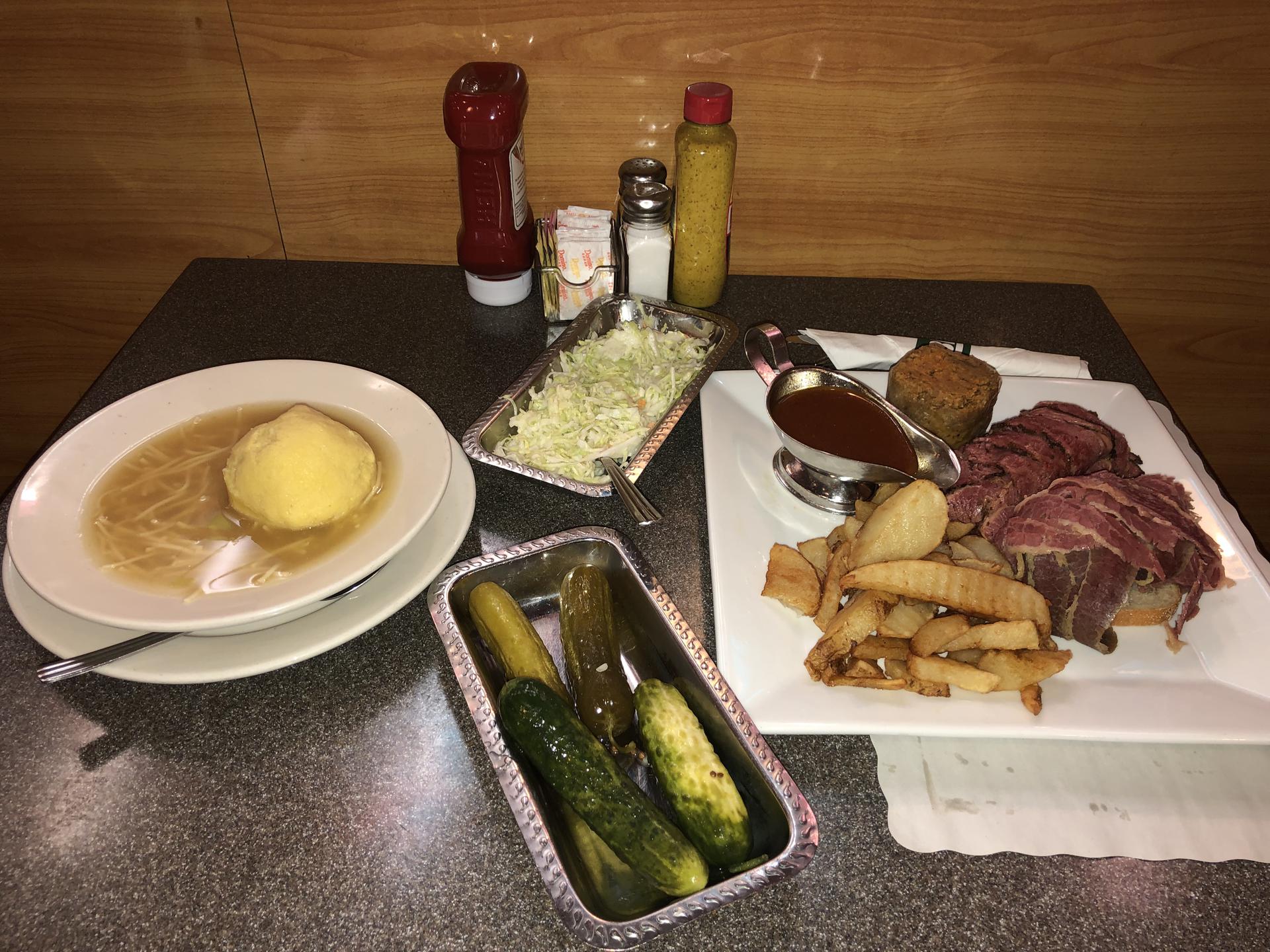 | | |
| --- | --- |
| | Ben's Friends Preferred Patrons Club News |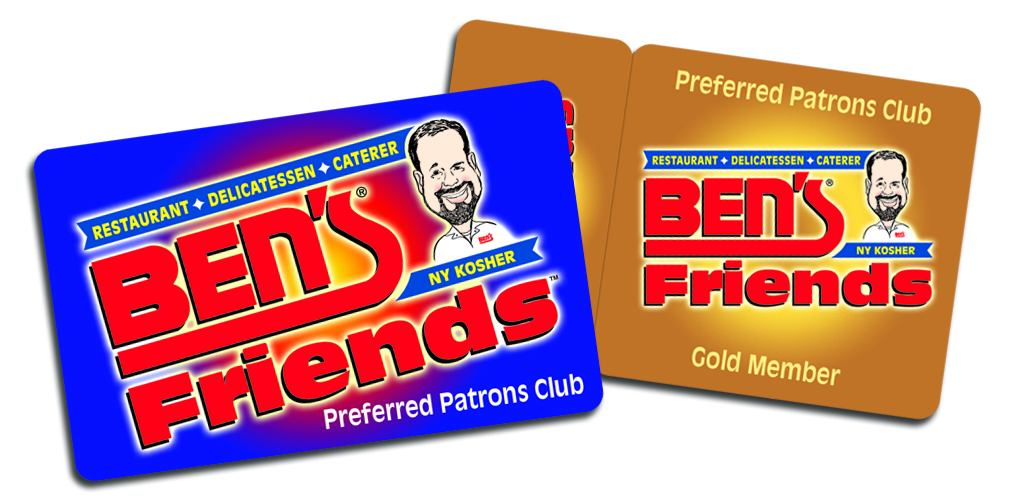 Ben's NEW order and delivery service starts this month in some stores with a full roll out March 1st. Members of Ben's Friends will be able to order items from our takeout menu online, earn points for their orders, redeem rewards, use Ben's bucks, apply multiple payment options and much more. All you need to do is log in with your current Ben's Friends username and password and viola you are in! New customers will be enrolled as they register for their first order and will start earning points towards their first reward immediately. And more good news, our app update is coming this month which includes keeping track of your Ben's Friends loyalty account, viewing menus or order for pickup and delivery right from the app! It's a technology driven world and we are excited to make your Ben's experience more seamless!
| | |
| --- | --- |
| | What's Cooking at Ben's? |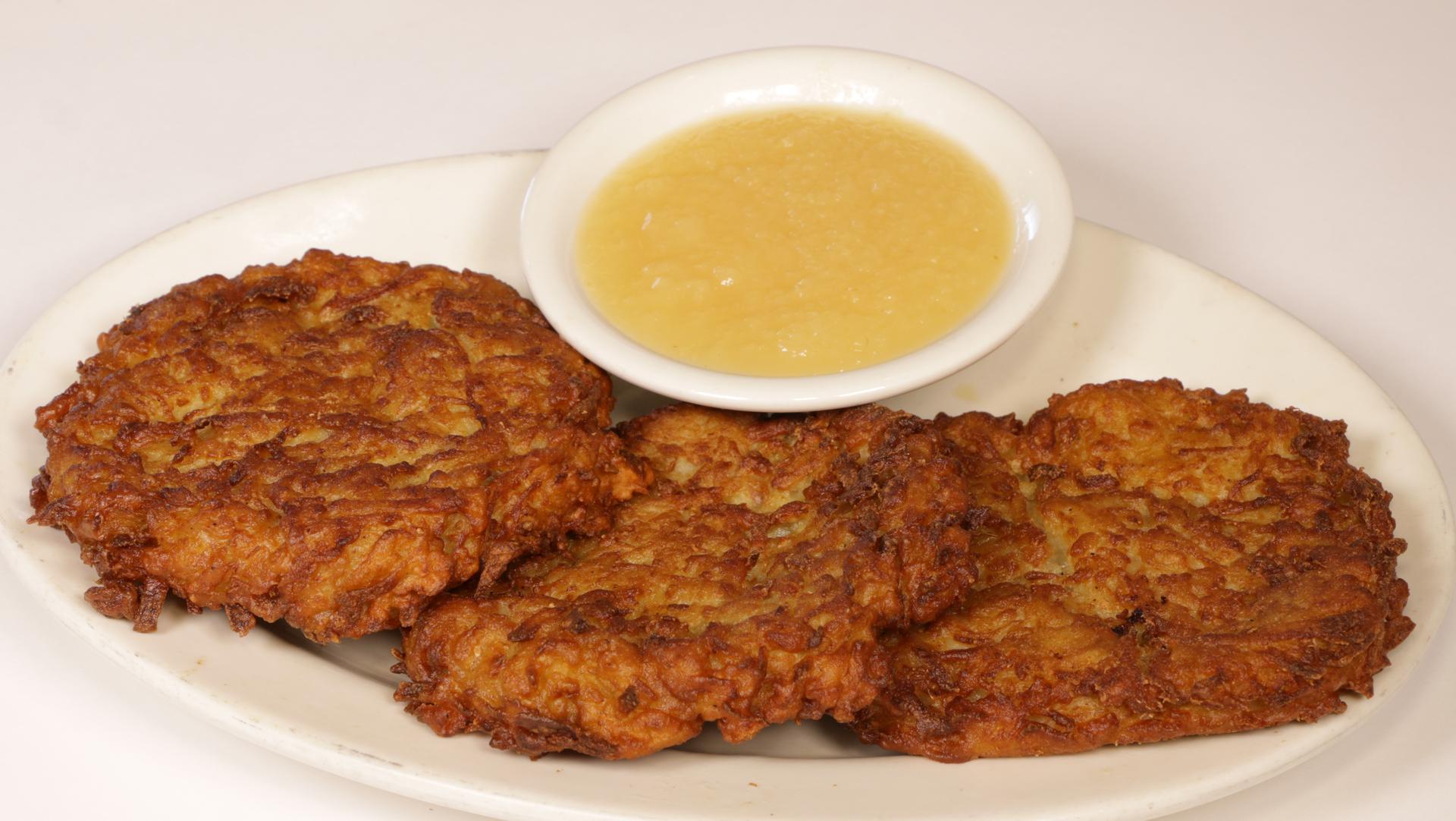 Did you know that February 8th is National Potato Lovers Day? Why not celebrate with our potato latkes or our fresh cut French fries or our potato knish? All delicious potato options available at your closest Ben's location for dine in or take out.
• • • • • • • • •
Enjoy Sunday Supper at Ben's with our Prime Rib special. A delicious perfectly cooked cut of our best prime rib along with two side dishes, soup and a bottomless fountain soda, all for $39.99. Bring it up a notch by pairing your meal with a bottle of Beron Herzog Cabernet or Merlot for just $20. Available at all Ben's locations during dinner service only.
• • • • • • • • •
Looking for a great takeout option for a family dinner? Ben's Real Meals are the answer! The family-style takeout dinners for 2, 4 or 6 offer hot, fresh and complete meals. Available any weekday (except holidays) the complete meal includes pickles and fresh bread, choice of homemade salad, main dish and two delicious sides. Call ahead and it will be ready when you arrive to pick up!
| | |
| --- | --- |
| | Giving Something Back |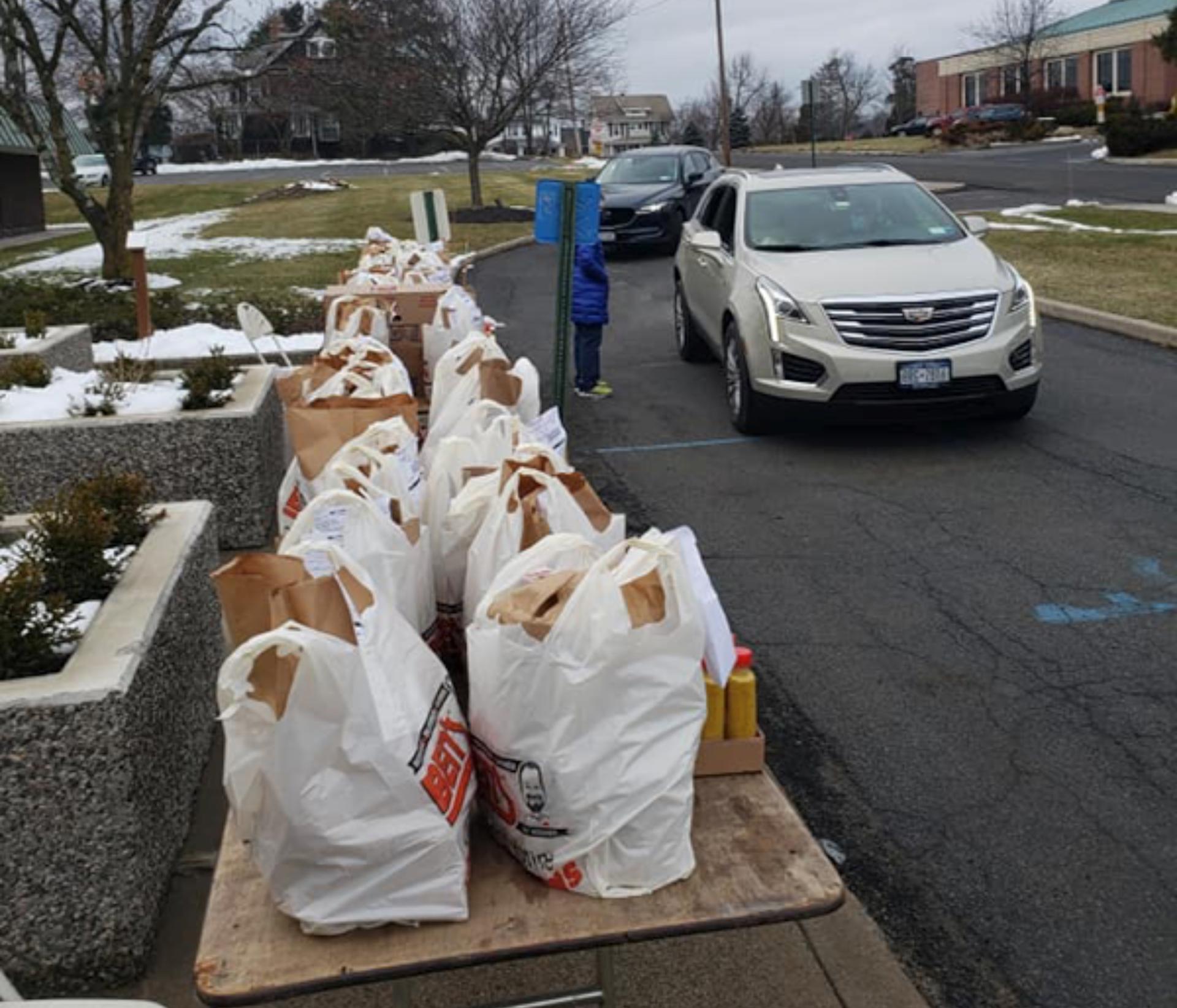 We are super excited for the recent Temple initiatives we have been involved in. Ben's has been delivering food to select Temples Parking lots for their congregants while giving 10% of the sales right back to the Temple. It is a great way to get a delicious Ben's while you stop by the Temple AND help give a little back to your Temple at the same time! If your Temple is interested in a partnership please reach out to us, no Temple is too far!
© Copyright 2021. Ronald M. Dragoon, Ben's Restaurant Group, Inc. NY Kosher Deli.
Manhattan, Queens, Long Island, Westchester and Florida Delicatessen Restaurant & Caterers.