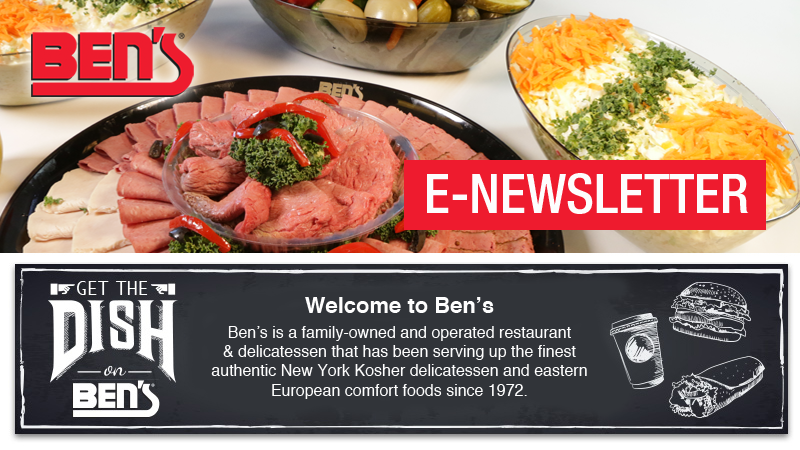 | | |
| --- | --- |
| | Ruminations & Ronnifications |
As I contemplate the New Year of 2021, I bid adieu to the tumultuous 2020, whose year-end could not come soon enough.
Although I was born after World War II, I never experienced so much angst around the world as I have witnessed this year. And never in my 48 years in business have I had to implement change on a continuum in order to survive… > Read More
| | |
| --- | --- |
| | Special Events and Offers |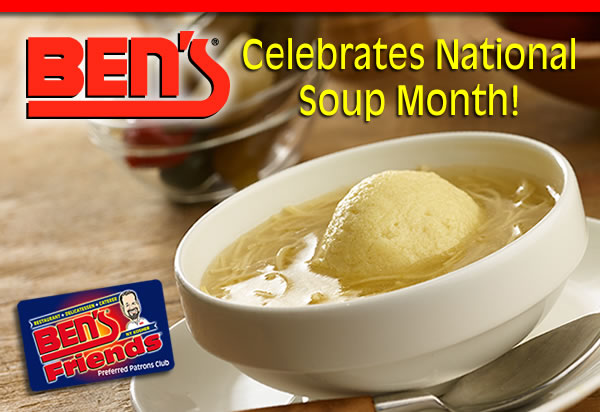 January is national soup month, so it's time to get your soup on! In honor of soup month we are offering DOUBLE (that's right double) Ben's Friends rewards points on all our a la carte soups throughout the entire month in our dining rooms! Enjoy our World Famous chicken soup with noodles, matzo balls or kreplach, our thick and hearty mushroom barley or any of our soups of the day. Because "happiness is... hot soup on a cold day."
• • • • • • • • •
It's food holidays abound this month with Pastrami Day on January 14th. In honor of pastrami day we will be featuring several dine in pastrami specials including: a foot long Israeli pastrami hero with 1.25 lbs. of pastrami, cole slaw, pickles, fresh cut French fries and two fountain sodas all for $39.99; pastrami sandwich & soup combo for $19.99; and a pastrami platter for $25.99 with half pound of pastrami, side dish of your choice, bottomless fountain soda and of course bottomless cole slaw and pickles galore! And from our takeout counter purchase two pastrami sandwiches to go at the regular price and receive a FREE half pint portion of cole slaw and potato salad OR purchase a half pound of Ben's twice steamed pastrami to go at the regular price and we'll give you a FREE Hebrew National® frankfurter to enjoy while we slice!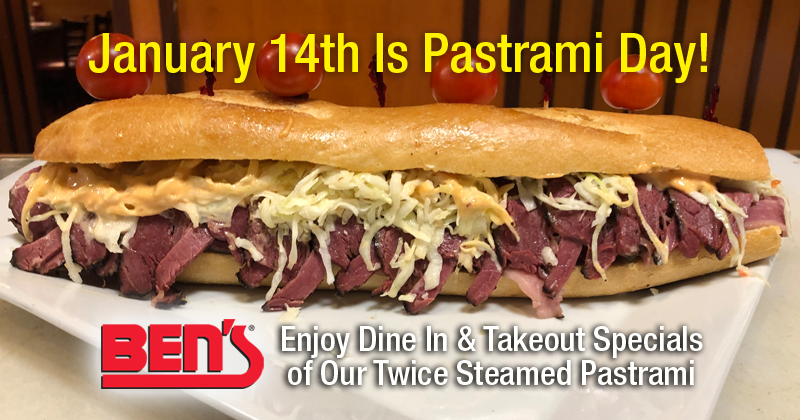 | | |
| --- | --- |
| | Customers' Corner |
"I know Ronnie personally and most of the managers and staff at Ben's. I know what keeps them up at night... not profits... the safety of their customers and staff. I have been putting in large orders for my kids weekly. They are always delivered on time, correct food and safely."
~ Michael, New York
"We ordered our Prime Rib dinner last Sunday at the counter. It was delicious. Our order was perfect."
~ Harriet, Florida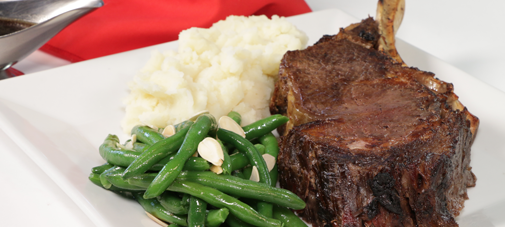 | | |
| --- | --- |
| | Ben's Friends Preferred Patrons Club News |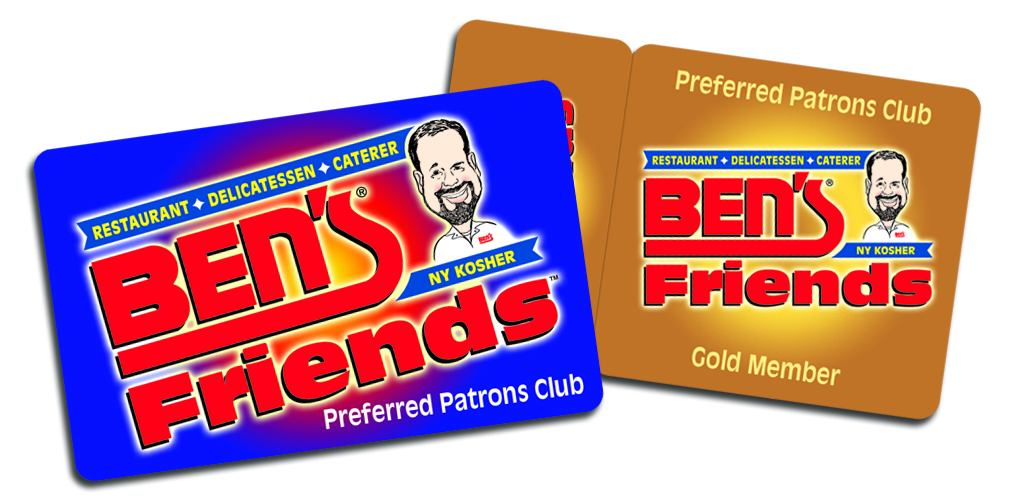 Our new app is launching this month! Look for the app in Apple and Google in January. If you download the app (or already have the app) it will automatically update when we launch. Full details on the new app will be coming via email, stay tuned!
| | |
| --- | --- |
| | What's Cooking at Ben's? |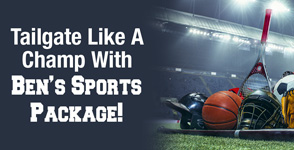 It's playoff season for the NFL and what better way to enjoy the game than with a delicious spread from Ben's! Choose your favorite from Big Game menu: giant hero ($14.99 pp), the cold cut classic ($14.99 pp), over-stuffed sandwiches ($14.99 pp), grilled chicken breast hero ($15.99 pp), assorted wraps platter ($14.99 pp), all come with two salad selections, pickle bowl & condiments. Add hot or BBQ wings for $8.99 lb. And enjoy FREE munchies (4 dozen) with any big game order for 12 or more, choose from frankfurters in jackets, mini potato, spinach or kasha knishes. Get ready for the big game on Superbowl Sunday, February 7th by placing your order early!
• • • • • • • • •
Don't forget every Wednesday is Ben's Day! Enjoy $19.99 special dinner platters featuring signature dishes such as corned beef, chicken fricassee and chicken in the pot. This special is only available in the dining room on Wednesdays from 4 p.m. until closing. The specials don't end there. Warm up on Sundays with our prime rib special! Enjoy a delicious perfectly cooked cut of our best prime rib along with two side dishes, soup and a bottomless fountain soda all for $39.99. Available at all Ben's locations during dinner service only.
| | |
| --- | --- |
| | Giving Something Back |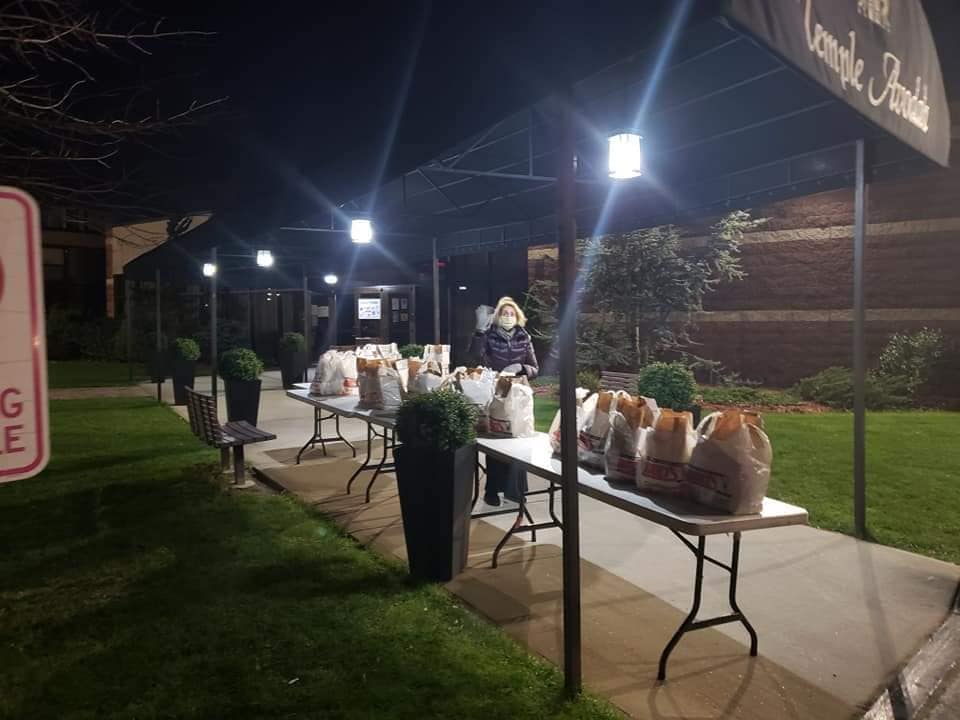 Our Ben's Carle Place team had the pleasure of delivering some traditional Hanukkah goodies for the Temple Avodah drive through service in Oceanside, NY. We were so happy to offer our famous latkes for your Temple Avodah Food Initiative.
© Copyright 2021. Ronald M. Dragoon, Ben's Restaurant Group, Inc. NY Kosher Deli.
Manhattan, Queens, Long Island, Westchester and Florida Delicatessen Restaurant & Caterers.