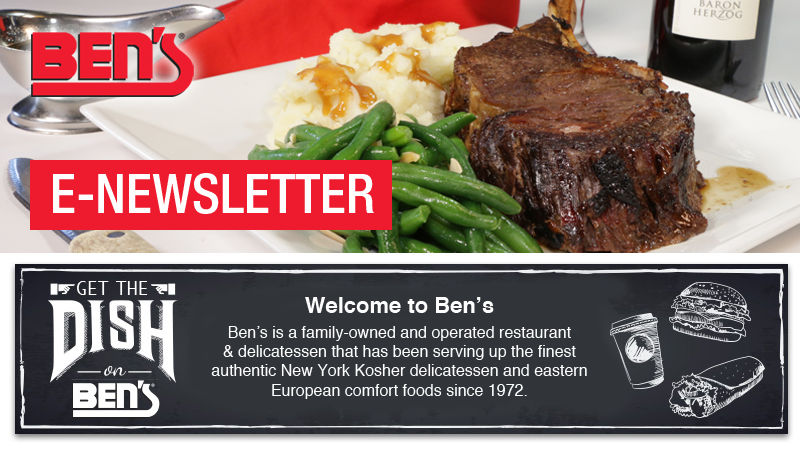 | | |
| --- | --- |
| | Ruminations & Ronnifications |
The year was 1988. The object of my affections: a beeper. For those who don't remember, that's how improved communications first started... the beeper, then a plain cell phone, then the fancy flip phones... and in 2017, I surrendered to those nudging me to upgrade. So a smart phone I purchased. And three years later I often… > Read More
| | |
| --- | --- |
| | Special Events and Offers |

The Festival of Lights is right around the corner and Ben's has all your favorite Hanukkah dishes! December 10th-20th, Ben's will offer a special Hanukkah Family Dinner for 6 package for $149.99. The family meal includes 2 qts. chicken noodle soup, 7 matzo balls, 1 qt. side salad, a choice of cole slaw, health salad or cucumber salad, 1 lb. rye bread, choice of main dish from 3 whole chickens with stuffing or 2.5 lbs. brisket (+ $10), 2 dozen mini latkes with apple sauce and small relish tray.
Speaking of latkes, we've got lotsa latkes this holiday season! We will be offering them for a special price during Hanukkah – buy three dozen latkes, get one dozen FREE and an additional 25% off each additional dozen. Ben's latkes flavors include: spinach, sweet potato, zucchini and potato. You can mix and match flavors and applesauce is always included! Orders may be placed by calling your nearest Ben's or by calling the Catering Hotline at 1-800-344-BENS.
• • • • • • • • •
Celebrating the holidays at home? Ben's has options galore to feed the family, your office or any group. From Ben's Party Platter for 10 featuring hors d'oeuvres, a deli platter and sides or our Asian Luau for 15 with Hawaiian chicken or beef to a Housewarming Buffet for 20 with carved roasted turkey or rotisserie chicken or a Deluxe Hot & Cold S'more-gasbord for 20 with beef burgundy or chicken cacciatore, Ben's has the perfect meal for you! As well, our Holiday Season Dinner for 12 promises a delicious meal to celebrate the upcoming holidays with signature dishes such as baked brisket of beef, whole roasted turkey or prime rib of beef with homemade mashed potatoes, broccoli almondine, string beans almondine or pasta and spinach. Click here to view all the options for holiday catering.
• • • • • • • • •
A reminder as we approach the holiday season that Ben's will be open! Our Long Island, Scarsdale and Florida locations will all be open Christmas Eve, Christmas Day, New Year's Eve and New Year's Day for dine in and take out. Order online, call our hotline at 1-800-344-BENS or stop in to see us!
• • • • • • • • •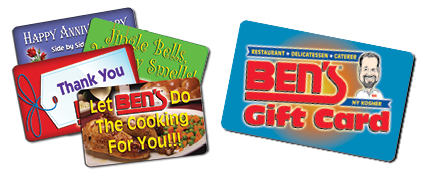 Not sure what to get that hard to buy for person on your list? Consider a Ben's gift card, a tasteful gift that is sure to be savored! Ben's gift cards are available to purchase online or in our stores and can even be sent via email to your recipient for easy gift giving. Have a group you want to send gift cards to? We can facilitate that for you, send us your list of names, addresses and gift card amounts with a personal message and we will do the rest! We will send the gift cards in a handsome folder personalized with your message to each recipient on your list. Click here to purchase now.
| | |
| --- | --- |
| | Customers' Corner |
"We needed very quick service for a post meal after a funeral, provided via catering. We got it. When a mistake on OUR end could have made a mess, Ronnie, founder of Ben's, responded to a middle of the night email and quickly fixed the arrangements. Thanks to everyone who helped us get through a very difficult day!"
~ Ron, East Northport, NY
"Few restaurants serve food as well to take out as they do to dine in. But Ben's does. The same Ben's excellence."
~ Mark, Boca, FL
| | |
| --- | --- |
| | Ben's Friends Preferred Patrons Club News |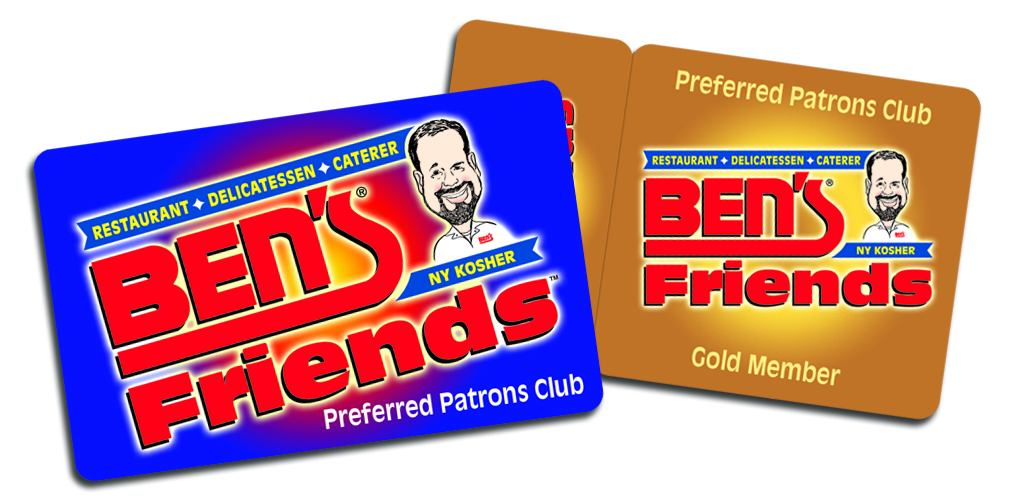 We are almost ready to launch our new Ben's Friend app! To kick off 2021, we will unveil the new app with lots of new features and benefits for our loyalty members. If you haven't already downloaded the app now is the time! Click here to download.
| | |
| --- | --- |
| | What's Cooking at Ben's? |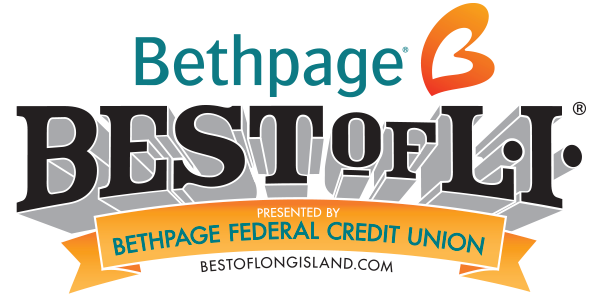 Have you voted yet? The Long Island Press Best of LI 2021 voting is open until December 15th so you still have time!
Ben's is nominated for: Best Appetizer, Best Burger, Best Deli, Best Dinner Deal, Best French Fries, Best Fried Chicken, Best Hot Dogs, Best Lunch Deal, Best Off Premises Caterer, Best Pastrami Sandwich, Best Pickle, Best Salad, Best Sandwich Deal, Best Soup, Best Diner, Best Family Style Restaurant, Best Kosher Restaurant, and Best Restaurant. Click to vote! Thanks for your support!
| | |
| --- | --- |
| | Giving Something Back |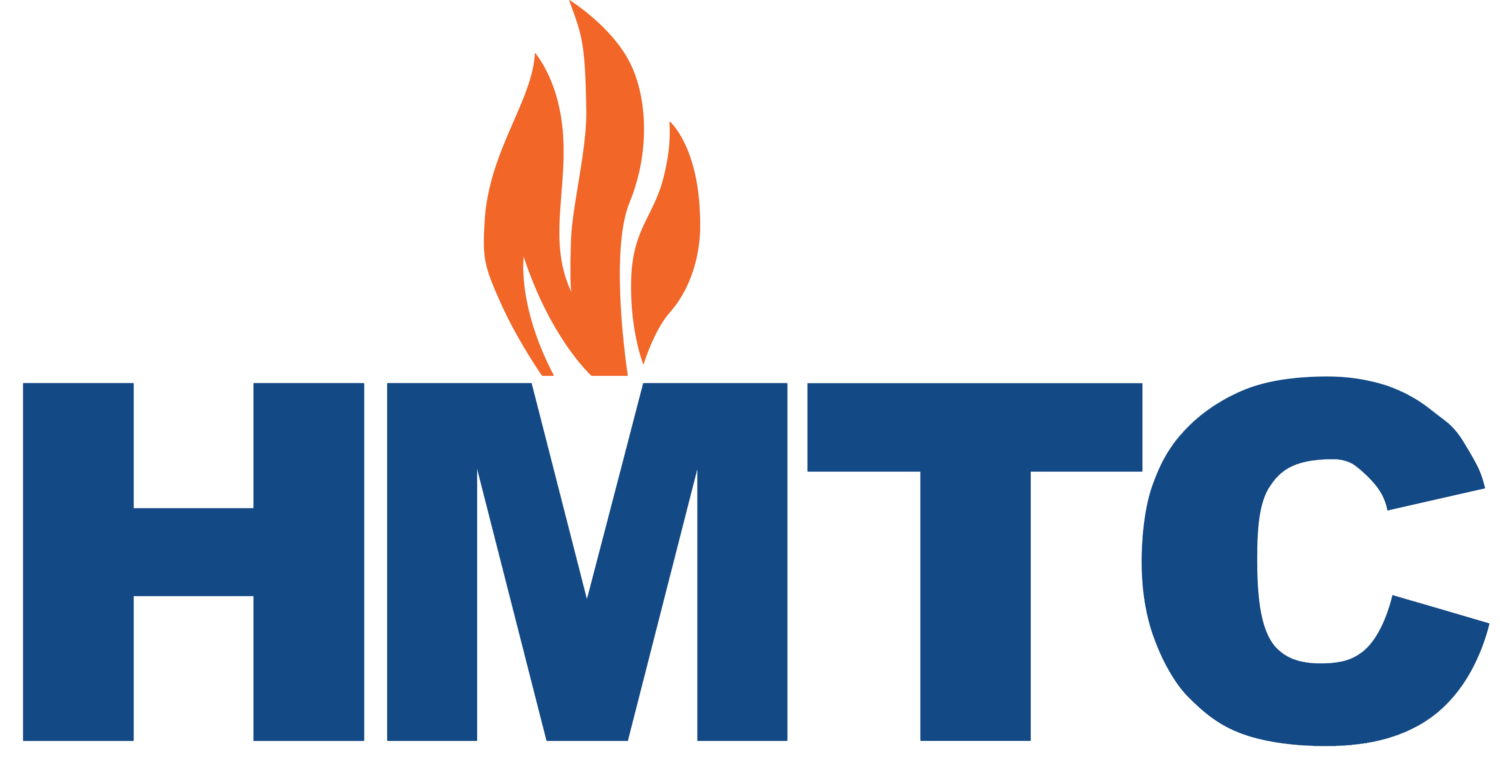 Ben's is partnering with the Holocaust Memorial & Tolerance Center of Nassau County on December 17th for a viewing and discussion of the documentary Deli Man. Deli Man is a documentary about Jewish culture specifically Ziggy Gruber, a third-generation delicatessen man who currently operates one of the country's top delis, Kenny and Ziggy's in Houston. Ben's founder Ronnie Dragoon will be part of the post-screening discussion on Zoom with the two stars of the film. As well, Ben's is offering special meal boxes to enjoy the night of the virtual event with a portion of the proceeds benefitting the Holocaust Memorial & Tolerance Center of Nassau County. Click here to register for the event and for more details on ordering your Ben's meal.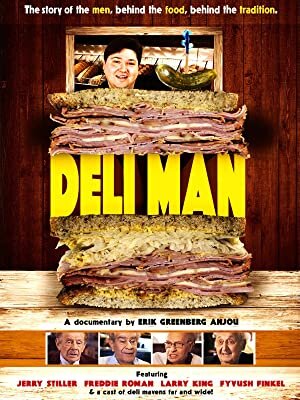 © Copyright 2020. Ronald M. Dragoon, Ben's Restaurant Group, Inc. NY Kosher Deli.
Manhattan, Queens, Long Island, Westchester and Florida Delicatessen Restaurant & Caterers.