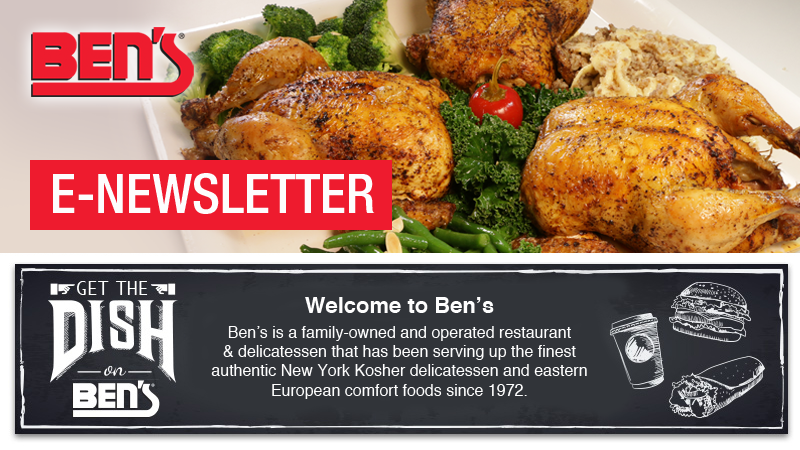 | | |
| --- | --- |
| | Ruminations & Ronnifications |
I am sitting in my home office listening to Paul Robeson, Pete Seeger, Joan Baez, the Weavers and realizing that many of our patrons do not know or remember these traveling troubadours of years gone by.
I needed a diversion. ... > Read More
| | |
| --- | --- |
| | Special Events and Offers |
It's Election Day and Ben's wants you to get out and VOTE! Present proof of voting along with the attached coupon and we'll take $5 off any Ben's purchase of $15 or more on Election Day, November 3, 2020. Sounds like another good reason to exercise your right to vote!
Click Image For Printer Friendly Coupon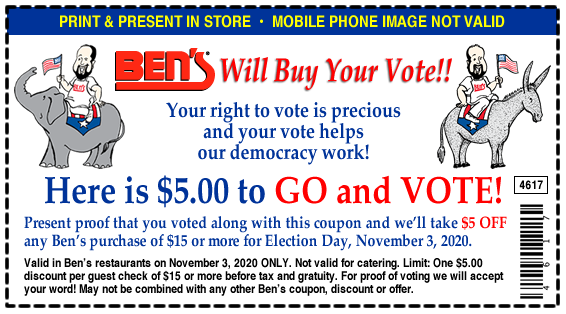 • • • • • • • • •
We are honoring those who have served our country on Wednesday, November 11th. This Veteran's Day pick up these local papers – Newsday, Queens Chronicle, Jewish Journal and NY Times – and look for our coupon offering a $5 gift certificate to all U.S. Veterans as a small token of our appreciation. Our Veteran's thank you gift certificate will be valid November 9-11 and good on any purchase of $15 or more. Click here to view a list of editions with the coupon.
• • • • • • • • •
Warm up on Sundays with our new Prime Rib Sunday Special. Enjoy a delicious perfectly cooked cut of our best prime rib along with two side dishes, soup and a bottomless fountain soda all for $39.99. Bring it up a notch by pairing your meal with a bottle of Baron Herzog Cabernet or Merlot for just $20. Available at all Ben's locations during dinner service only.
• • • • • • • • •

Ben's is celebrating Thanksgiving with special meals to go or dine in options. If you are looking to go out for your turkey dinner head over to our Ben's location in Long Island, Bayside, Scarsdale or Boca Raton, FL which are all open on Thanksgiving, Thursday, November 26th. Enjoy a roast turkey dinner for $27.99 which includes homemade soup and a soft drink. Bring the kids as we are offering a kids feast for $9.99 which includes a soft drink and dessert. Seatings will be offered at Long Island and Boca Raton locations at 11am, 1pm, 3pm., 5pm. and 7pm, and Bayside and Scarsdale at 12pm, 2pm, 4pm and 6pm.*
If you prefer to enjoy your Thanksgiving Dinner at home with the family but want to skip the cooking, order a full Thanksgiving meal from Ben's! Enjoy a feast for 6 or 10 including roast turkey, Ben's own stuffing and gravy, roasted potatoes, baked yams, string beans almondine, fruit noodle pudding, mashed potatoes, cole slaw, cranberry-pineapple compote and more. Delicious add-ons are also available including chicken soup, matzoh balls, mini potato pancakes, mini knishes, apple pie and more. Order your Thanksgiving to go from the closest Ben's location.
*NOTE: Ben's Manhattan will only be open on Thanksgiving Day for counter orders and take out only from 9am to 3pm.
Ben's Preferred Patron Club Members: Order the Thanksgiving package for 10 and receive two Buy-One-Get-One FREE meal rewards or order the package for 6 and receive one Buy-One-Get-One FREE meal rewards. Orders must be placed by Monday, November 23rd to receive rewards.
| | |
| --- | --- |
| | Customers' Corner |
"Started with a bowl of Matzo, then to the Dual Combo sandwich one pastrami and one corned beef. Finished off the night with a piece of 7 layer cake! All were fantastic!"
~ Tom, Huntington, NY
"You want REAL CORNED BEEF on Rye? Matzo Ball soup like mama made, Brisket or Corned Beef off the hook! This is as good as it gets! Eat, drink, loosen the belt!"
~ DrrjbayRJ B, Oklahoma
| | |
| --- | --- |
| | Ben's Friends Preferred Patrons Club News |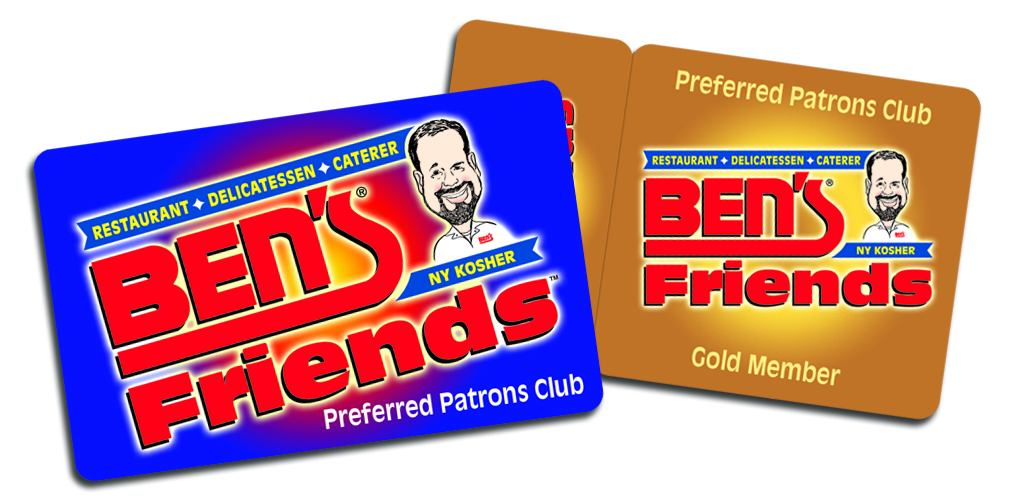 We've got some big upgrades in the works for our loyalty program, so now would be a great time to join! We are doing more testing this month and expect the roll out very soon. Download the app and sign up today as the new version will automatically update once launched so you will be the first to experience it!
| | |
| --- | --- |
| | What's Cooking at Ben's? |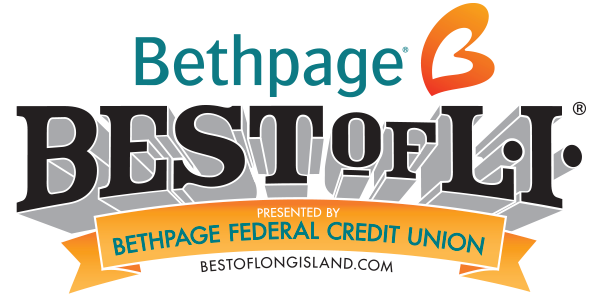 We have been nominated! Ben's is proud to share that we have been nominated in several categories in Long Island Press' Best of LI 2021. Categories nominated in include: Best Appetizer, Best Burger, Best Deli, Best Dinner Deal, Best French Fries, Best Fried Chicken, Best Hot Dogs, Best Lunch Deal, Best Off Premises Caterer, Best Pastrami Sandwich, Best Pickle, Best Salad, Best Sandwich Deal, Best Soup, Best Diner, Best Family Style Restaurant, Best Kosher Restaurant, and Best Restaurant. Voting is open until December 15. Click to vote!
• • • • • • • • •
November 14th is National Pickle Day! And what better way to celebrate than with Ben's pickles! At Ben's we serve FREE pickles with all meals in our dining room, so stop in for a meal and celebrate Pickle Day with our signature pickles!
• • • • • • • • •
Football is in full swing and the best way to watch the game is with snacks! Ben's is offering a special sports package featuring all your favorite game time snacks – 25 wings, 5 sandwiches, 1 lb. of fresh-cut cole slaw, 1 lb. of potato salad, 5 pickles and mustard & Russian dressing, all for $79.99. Add on a half tray of Ben's French fries for $19.99 or Franks & Beans for $29.99 a tray. Call your nearest Ben's to reserve your package for the next big game!
| | |
| --- | --- |
| | Giving Something Back |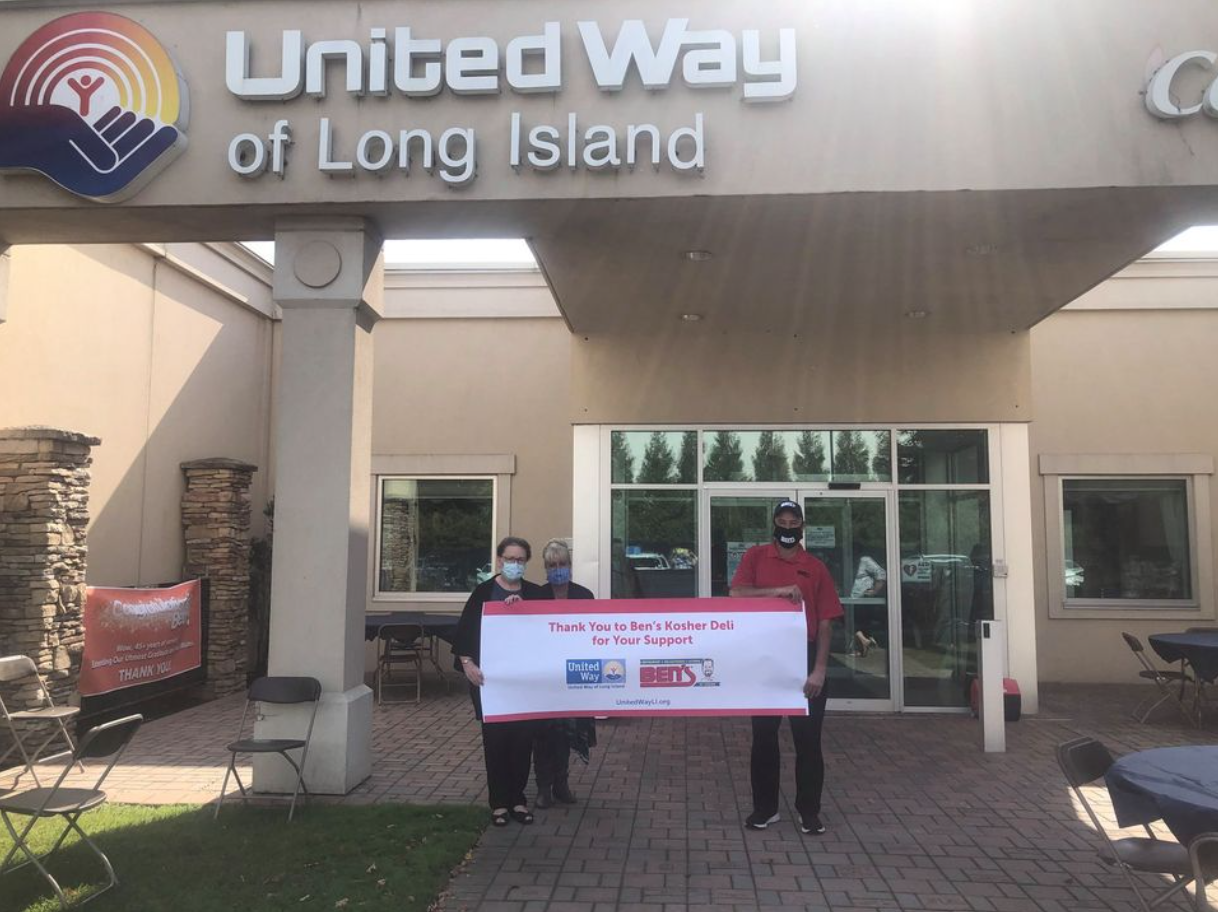 Ben's has been honored to partner with United Way of Long Island to feed the frontline workers in the area hospitals during the COVID-19 crises. As a thank you for their partnership, we delivered a food donation to the Long Island headquarters a few weeks back. Together we make a difference.
© Copyright 2020. Ronald M. Dragoon, Ben's Restaurant Group, Inc. NY Kosher Deli.
Manhattan, Queens, Long Island, Westchester and Florida Delicatessen Restaurant & Caterers.