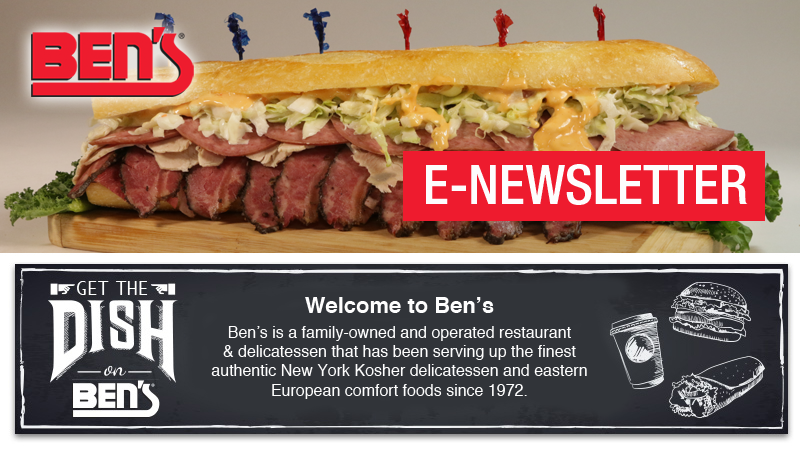 | | |
| --- | --- |
| | Ruminations & Ronnifications |
I am imagining writing this blog in 1972 (an essay or missive back then) when this journey of mine first began.
Richard Nixon was the President with the promise of ending the Vietnam War. Chaos reigned in his administration which ultimately ended in his resignation. ... > Read More
| | |
| --- | --- |
| | Special Events and Offers |
Did you know September 7th is National Salami Day? That's right, it's a day to honor cured meats! And Ben's is celebrating with a free Naughty Nightie t-shirt for any customer who purchases a pound each of soft and hard salami. It's the perfect day to stock up on salami!
• • • • • • • • •

As school days are right around the corner, family meals are back. However finding time to prepare those meals is a challenge so consider Ben's Real Meals! The family-style takeout dinners for 2, 4, or 6, offer hot, fresh and complete meals. Available any weekday (except holidays) the complete meal includes pickles and fresh bread, choice of homemade salad, main dish and two delicious sides. Call ahead and it will be ready when you arrive to pick up!
• • • • • • • • •

As the new year approaches, Ben's has the perfect package for your family Rosh Hashanah celebration. Packages for 6 ($239.90) or 10 ($379.90) can be ordered for curbside pick-up or delivery. Order by September 13th to earn Ben's Friends Rewards.
Our holiday packages include enough appetizers, soup, choice of entrée, accompaniments and sides to feed 6 or 10 people! Desserts available at extra cost.
All Ben's locations will close at 4 p.m. on Friday, September 18th and reopen on Monday, September 21st in observance of Rosh Hashanah.
For complete menu and rewards information, click here.
And remember to Feast Before the Fast! Ben's Yom Kippur packages will be available as soon as we reopen from Rosh Hashanah break. Stay tuned for details!
| | |
| --- | --- |
| | Customers' Corner |
"Bens is great kosher food. I would never want to see them close. The tongue is one of a kind and the French fries are fresh and always deliver. I can't imagine life on Long Island without them."
~ Adam, New York, NY
"Ordered dinner to be delivered this evening. What a totally delightful experience. First the woman who took my order was patient & understanding while I was a bit unorganized. Next delivery came within the time period I had been told. AND, most importantly, everything was fresh & delicious!"
~ Marcia, Bayside, NY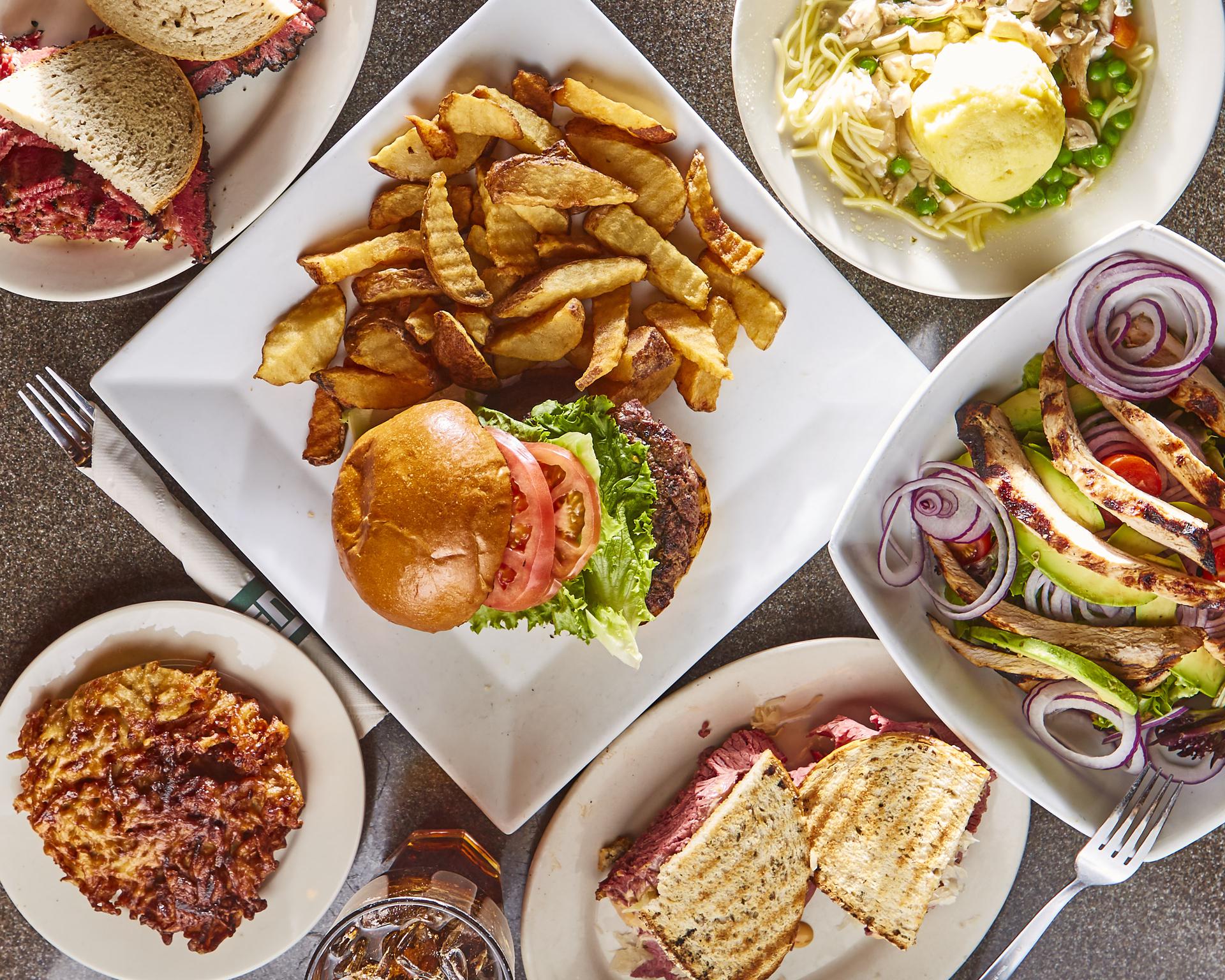 | | |
| --- | --- |
| | Ben's Friends Preferred Patrons Club News |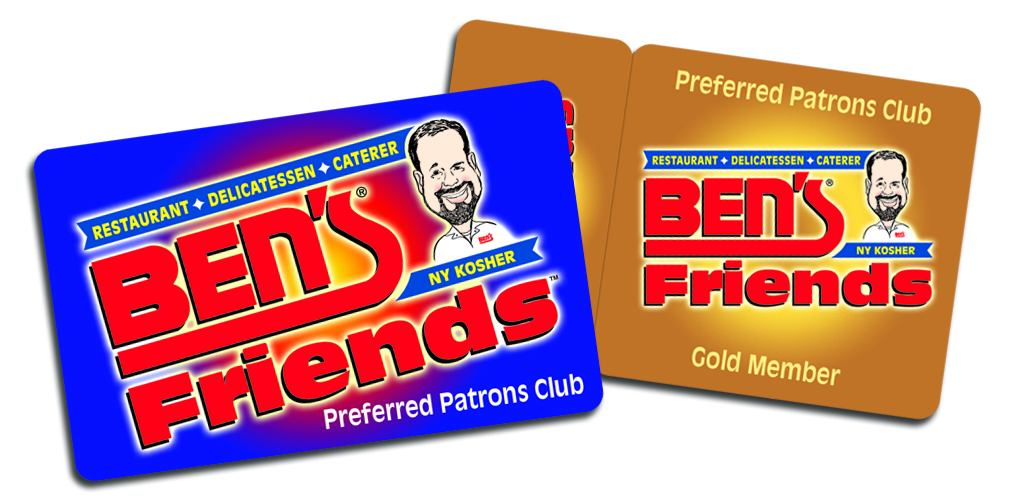 As we celebrate the end of summer, Ben's is giving back to our most loyal customers! All Ben's Friends members will receive DOUBLE points on Labor Day when dining in.*
Not a Ben's Friends member yet? Download the app and sign up today!
*Manhattan & Scarsdale closed on Labor Day.
| | |
| --- | --- |
| | What's Cooking at Ben's? |
As summer winds down, soak up the last days of BBQ weather. This Labor Day weekend order Ben's DIY BBQ package and grill up your favorites for an end of the summer family BBQ! Featuring all the fixin's for a complete BBQ – Hebrew National franks and rolls, burgers and rolls, BBQ chickens, cole slaw, potato salad, sodas, watermelon, pickles, lettuce tomato, onion, condiments and even paper goods! Call 1-800-344-BENS to reserve your DIY BBQ package.
• • • • • • • • •
If cooking isn't your thing, head over to your favorite Ben's location and enjoy outdoor dining while the weather lasts! Ben's in Bayside, Carle Place, Greenvale, Woodbury and Scarsdale all offer outdoor seating. Or if you prefer to enjoy Ben's in your own home order online for curbside pickup or delivery. Click here to order.
• • • • • • • • •
The coronavirus pandemic has hit hard for all of us and businesses everywhere are struggling to survive. Ben's is no exception. You may have caught our ad in Newsday a few weeks ago featuring a letter from our founder and CEO, Ronnie Dragoon. "To ensure that Ben's will still be here when the worst of these times are over, we need your help," Dragoon wrote. "Please add takeout from Ben's to your weekly meals, visit us for indoor or outdoor dining, or take advantage of our delivery and takeout deli service." Click here to read the full story in The Island Now.
| | |
| --- | --- |
| | Giving Something Back |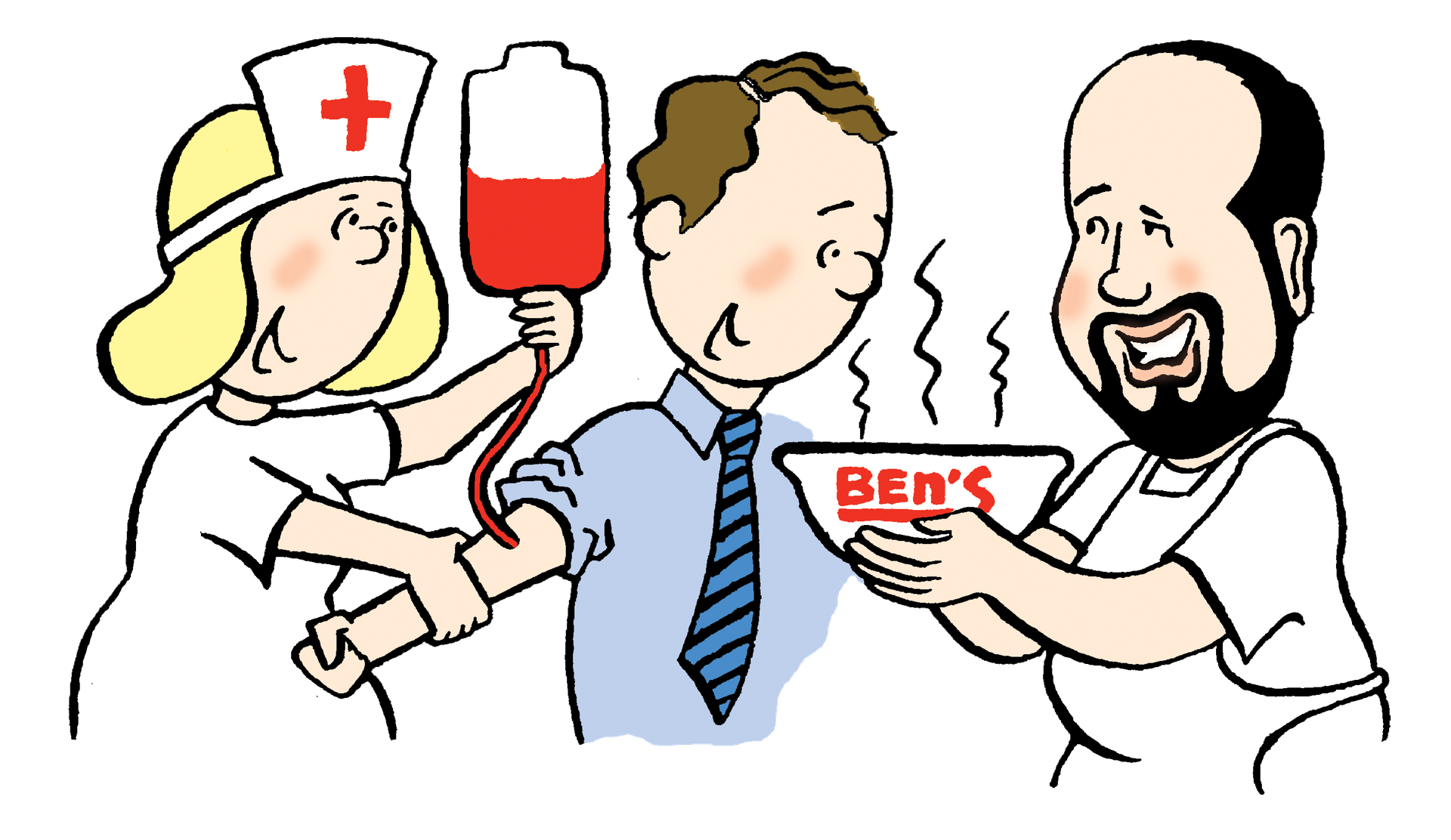 Blood banks are always in need of blood, especially during these trying times. If your group or organization is planning a blood drive consider partnering with Ben's Pint For A Pint program. We would be pleased to offer gift certificates good for a free pint of our famous homemade chicken soup for each blood donor! Click here to register your blood drive.
© Copyright 2020. Ronald M. Dragoon, Ben's Restaurant Group, Inc. NY Kosher Deli.
Manhattan, Queens, Long Island, Westchester and Florida Delicatessen Restaurant & Caterers.